Summer and beaches go hand in hand, so we've prepared an affordable beach vacation guide for you. These holiday spots may be cheap, but they're amazing places to visit! Best of all: they're fitting for family travel, couples retreats, and solo journeys alike.
Read on to discover ten amazing beach destinations you can travel to without leaving a fortune behind.
1. Gokarna, India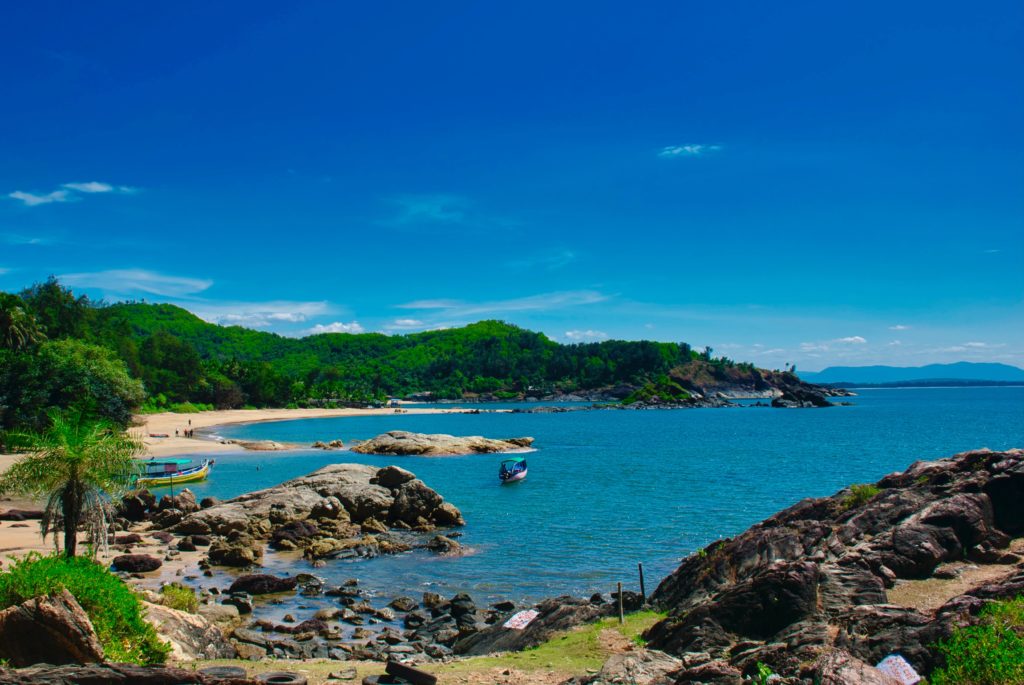 This small Indian town is one of the seven important places of pilgrimage in Hinduism. But travelers have embraced this sub-tropical destination for its beach, which opens on the Arabian Sea.
The top attractions for tourists in Gokarna are its beaches: Om Beach and Kudle Beach are the two main beaches in the area.
Visitors love Om Beach for its sunset views. You can camp overnight at the beach. The Namaste Cafe is a great place to grab a drink and enjoy a beautiful view of the beach, and you could also book a room there.
Kudle Beach is a beautiful and quiet beach that you can visit for relaxation and to enjoy its peace. The sunsets at Kudle are as good, if not better than at Om Beach.
If you're traveling with your children, visit Mirjan Fort. The fort was built in the 16th century and was the site of several battles. Learning about the fort's history is fun, and the architecture is impressive. It will make for a great change of scenery when you want a break from the beach. Kids and adults alike will also enjoy taking one of the many boat rides offered at the beach.
If you want to add a "wellness retreat" component to your vacation, then drop in for a yoga class at Shanti Yoga. The school also offers retreat programs.
How to get there?
The easiest way to get to Gokarna is to fly to Dabolim Airport in Goa. You'll need to take a taxi, bus, or train from Dabolim. We suggest taking a taxi or bus as it's more convenient and the train station in Gokarna is 10 km away from the city center. There are also buses to Gokarna from Bangalore and Mangalore.
Where to stay?
If you're traveling solo or without children, one of the best places to stay in Gorkana and enjoy your affordable beach vacation is Zostel Gokarna.
Families with smaller children should consider Poornima Beach Stay, located on its own private beach but won't break the bank.
Namaste Cafe also offers accommodation. Art Karna and Viraz Valley are two more hotels you can consider.
2. Subic Bay, Zambales, Philippines
The Philippines have many resorts, top beaches, and islands to savor the sun. Subic Bay is one of the best affordable beach vacation spots in the Philippines. It is accessible by land (no need to take a boat or ferry) and has many quality hotels available.
Surfers adore the area, and the bay's clear waters make for a perfect diving destination.
White Rock Beach and the All Hands Beach Resort are some of the best beaches in the area. But you'll probably be visiting the beach near your resort or your hotel.
Family travelers will love visiting Adventure Beach Waterpark near the Camayan Beach Resort. So once you've had your thrills and splashes at the park's slides, you can head out for some relaxation on the beach.
You can also spend the day at Inflatable Island beach club and jump away on inflatable trampolines in the water, followed by a delicious meal at the club's restaurant.
How to get there?
Downtown Subic is a 35-minute drive from Subic Bay International Airport and 90 minutes away from Clark International Airport. Subic's resorts, however, are located around the city, so your driving time will differ somewhat. Some hotels offer shuttles, or you can take a taxi or rent a car.
Where to stay?
An interesting choice for families is the Yellow House Vacation Rental homestay. It's in a quiet neighborhood with a garden view and a playground. White Rock Beach and Driftwood Beach are both located 2.2 km from the property.
Whiterock Beach Hotel and Waterpark is located on White Rock Beach and is an excellent choice for families, couples, or solo travelers. The hotel is everything its name implies and comes at an affordable price.
The Camayan Beach Resort is another excellent choice.
3. La Digue, Seychelles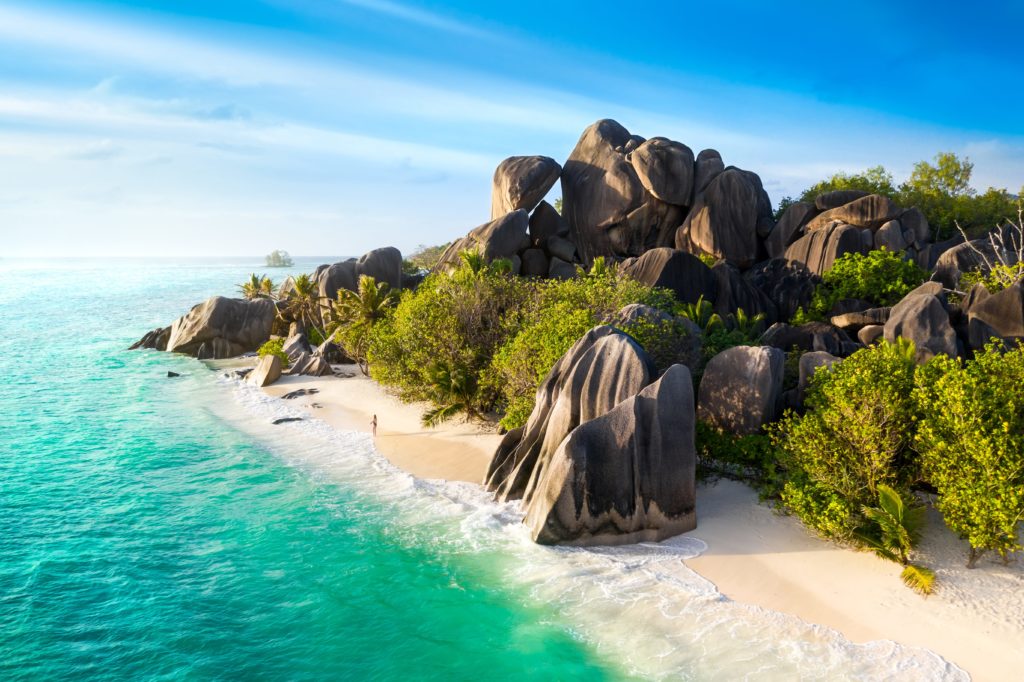 Seychelles is an underrated destination for beach tourism. The crown beach in the country is Anse Source d'Argent, located in La Digue. Not only is the beach picture-perfect, but it's also ideal for swimming, sunbathing, and snorkeling. All of the beaches in La Digue are. The waters are calm here, and when the tide is high, you can explore a lot of marine life. The calm waters make this an ideal destination for families traveling with children.
Because Anse Source d'Argent is situated in the Union Estate Plantation, there aren't any immediate hotels on the beach. However, there are many hotels for any budget nearby.
The other great beaches in the area are Anse La Reunion Beach, Anse Grosse Roche Beach, and Anse Gaulettes Beach.
How to get there?
To get to La Digue, you'll first need to catch a flight to Mahé, the Seychelles' biggest island. Most airlines fly to Seychelles International Airport, so you'll have no problem booking tickets. Because Seychelles is a collection of islands and La Digue is one of those islands, you'll need to take a ferry to La Digue.
Where to stay?
One of the best options that won't set your bank account back is the Chalets de Palma, a walking distance from many beaches. The guesthouse offers a great breakfast and has air-conditioned rooms and all the amenities. They even have a pool, but with the Indian Ocean's beaches nearby, we doubt you'll use it much.
Kot Babi is more low-key but is also a great spot to stay when traveling on a budget. It's a short walk from Anse Severe Beach, Anse La Reunion Beach, and Anse Patate Beach, so you can walk to a different beach every day.
If you want to stay by the beach, Le Relax Beach House is located on Anse Reunion Beach and offers excellent rooms and service.
4. Willemstad, Curaçao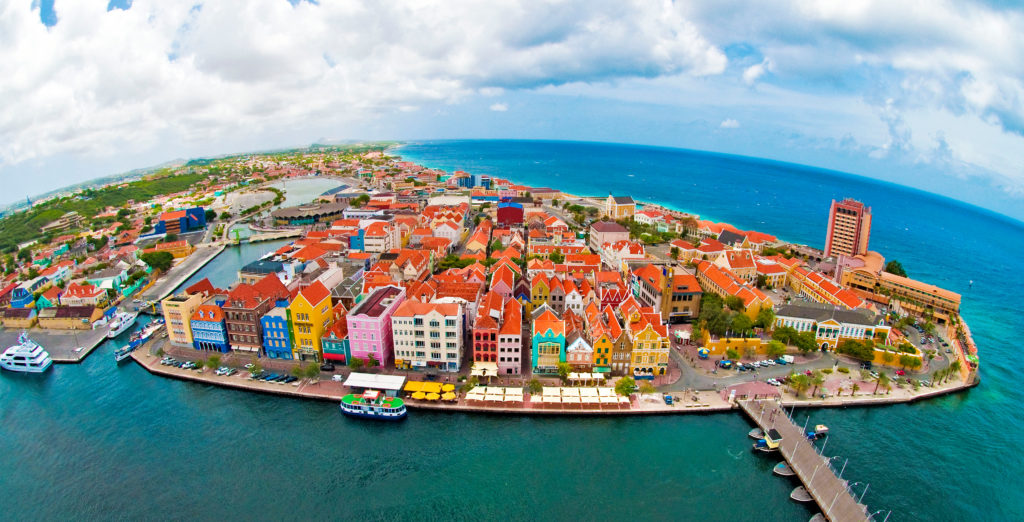 Located about 65 km north of Venezuela, Curaçao is one of the Dutch ABC Islands in the Caribbean Sea. The country is known for its beaches, great diving, and Caribbean beauty. Willemstad is not only about beaches: look the town up, and you'll immediately see pictures of its distinct, colorful houses in the search results.
However, the beaches here are world-class, and Curaçao is particularly loved for diving. Because Curaçao is geographically outside the "hurricane belt," you can visit it year-round.
Avila Beach is the beach you'll visit if you stay in Willemstad. Jan Thiel Beach and Kokomo Beach, located near Willemstad, are some of the best beaches in Curaçao. Both beaches have soft sand, calm waters, and plenty of activities for the entire family.
Another great beach to visit is Mambo Beach. Its Mambo Beach Boulevard has it all: shops, restaurants, and many spots to grab a drink. Best of all: the beach is only steps away from the bustling street.
The Curçao Sea Aquarium is a great place to learn about the marine life of the Caribbean. Your children will love feeding flamingos, lobsters, and rays using a fishing pole. There's a dolphin show that you can watch, and it's included in the admission price.
How to get there?
Curaçao International Airport is the only airport on the island, with plenty of affordable flights to get you there. It will take you about 15-20 minutes to drive to Willemstad. Check if your hotel offers a shuttle or take a taxi. Most beaches are close to the city, so arriving at your hotel or apartment shouldn't take more than 30 minutes.
Where to stay?
Curaçao has many accommodation options that will fit any budget. The San Marco Hotel Curacao is a high-quality budget option within walking distance of Avila Beach. The hotel also has a casino for those wanting to try their luck (responsibly). The Pietermaai Boutique Hotel is also a great hotel that comes at an affordable price nearby Avila Beach.
5. Martinique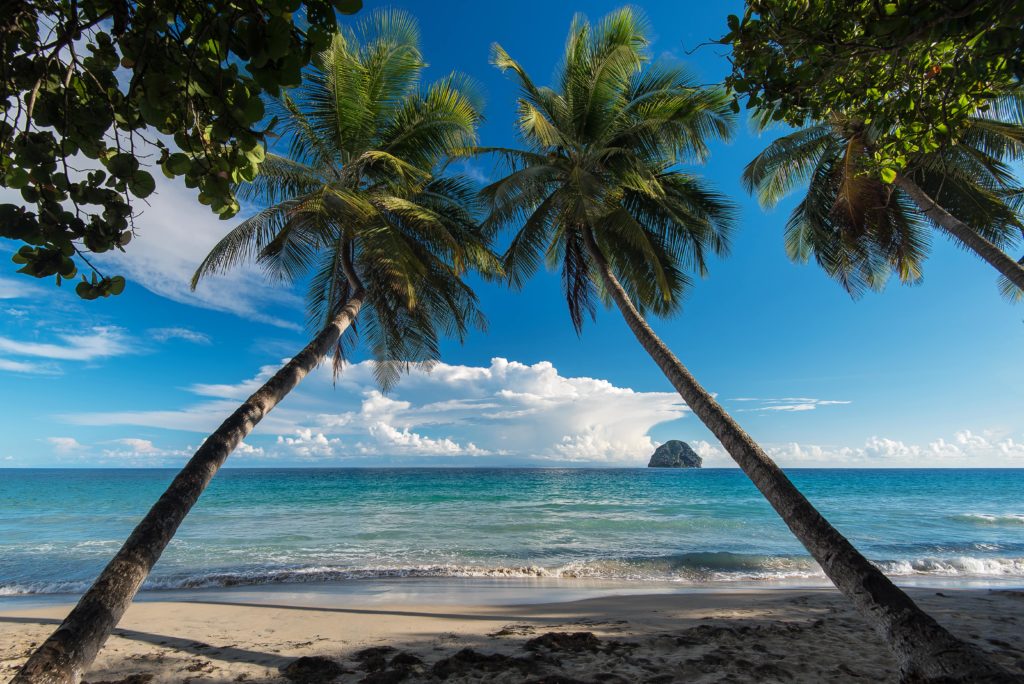 Martinique is one of the smallest French overseas territories (it's 80 km long, and its biggest width is 35 km). No matter where in Martinique you decide to stay, you'll enjoy some of the most amazing clear waters. On its east is the Atlantic Ocean, and on its west is the Caribbean Sea. It's a perfect affordable beach vacation spot for all types of travelers.
You can hike and explore the island's beautiful nature when you're not at the beach. There are half-day and day tours you can join to visit some of Marinique's beautiful waterfalls, visit local pottery masters and learn the island's history. Adult visitors enjoy going to local distilleries for rum tastings. You can seetwenty species of cetaceans, including dolphins, in Martinique's waters. So, it's a great idea to go on a dolphin-watching tour.
How to get there?
You'll need to fly to Martinique Aimé Césaire International Airport and either take a taxi or go on transport provided by your hotel.
Where to stay?
Residence Oceane Hotel is one of Martinique's best affordable hotels. Pierre & Vacances Villages Sainte Luce is another great choice.
6. Diani Beach, Kenya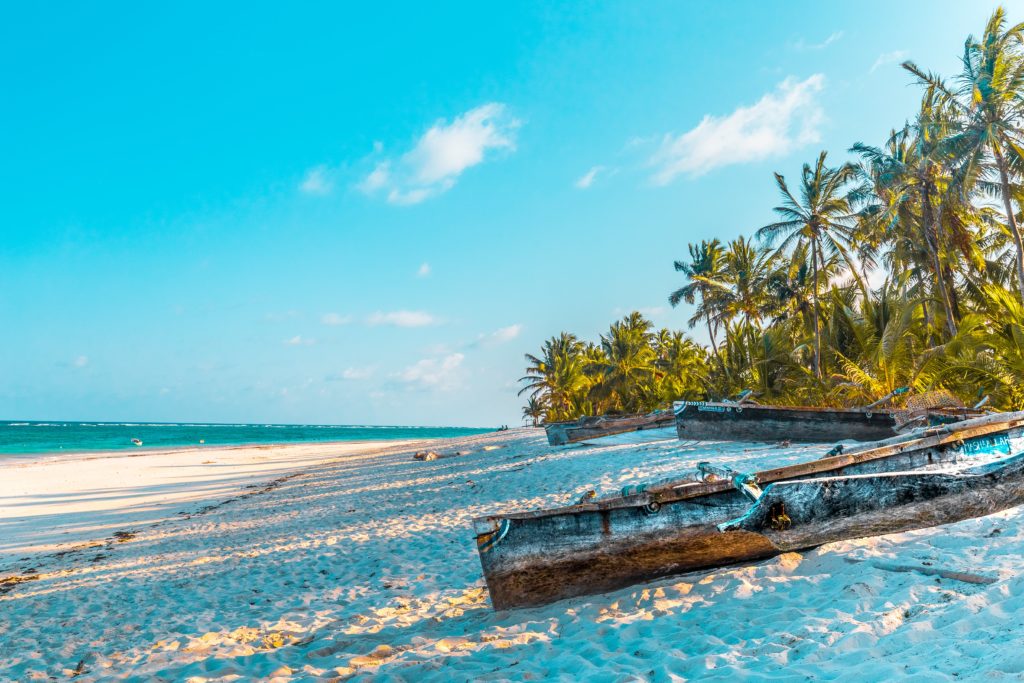 Kenya is an amazing country to discover, and Diani Beach is one of the reasons. The beach is known for its white sand, pristine waters, and many activities. Apart from sunbathing and swimming, you can kayak, jet-ski, windsurf, kitesurf, paddleboard, and scuba-dive. Diani truly has something for everyone's tastes.
When you want a break from the beach, you can visit the Tsavo East National Park to see lions, leopards, and giraffes. Another great spot is the Kisite Mpunguti Marine Park & Reserve, where you can discover over 250 fish species. There are many boat tours from Diani to Kisite, which include lunch and snorkeling. And yes, you should be able to see dolphins.
How to get there?
The quickest way to make it to Diani Beach is to fly to Ukunda from Nairobi. Because it's a domestic flight in Kenya, you won't find direct international flights to Ukunda. So, your best bet is to use a travel agent to book flights. The agents at ASAP Tickets are experts in booking complicated itineraries.
You can also fly to Mombasa, which is about a 90-minute drive from the beach. And there will be more flights to Mombasa, so more options will be available. To get to Diani Beach, you'll need to use Bolt or Uber to find a driver (it will be cheaper and more reliable than trying to hail a taxi) or arrange a shuttle with your hotel.
The other option is to take a train from Nairobi to Mombasa, followed by a Bolt or Uber drive.
Where to stay?
Like at most beach destinations, you'll find many hotel and apartment options and beach houses near Diani Beach. We love Swahili Beach Resort which has its own strip of private beach. Diani Reef Beach Resort & Spa and Blue Marlin Beach Hotel are great options.
One thing to check when booking hotels at Diani Beach is whether they allow children because some of the hotels have a no-children policy.
7. Bocas del Toro, Panama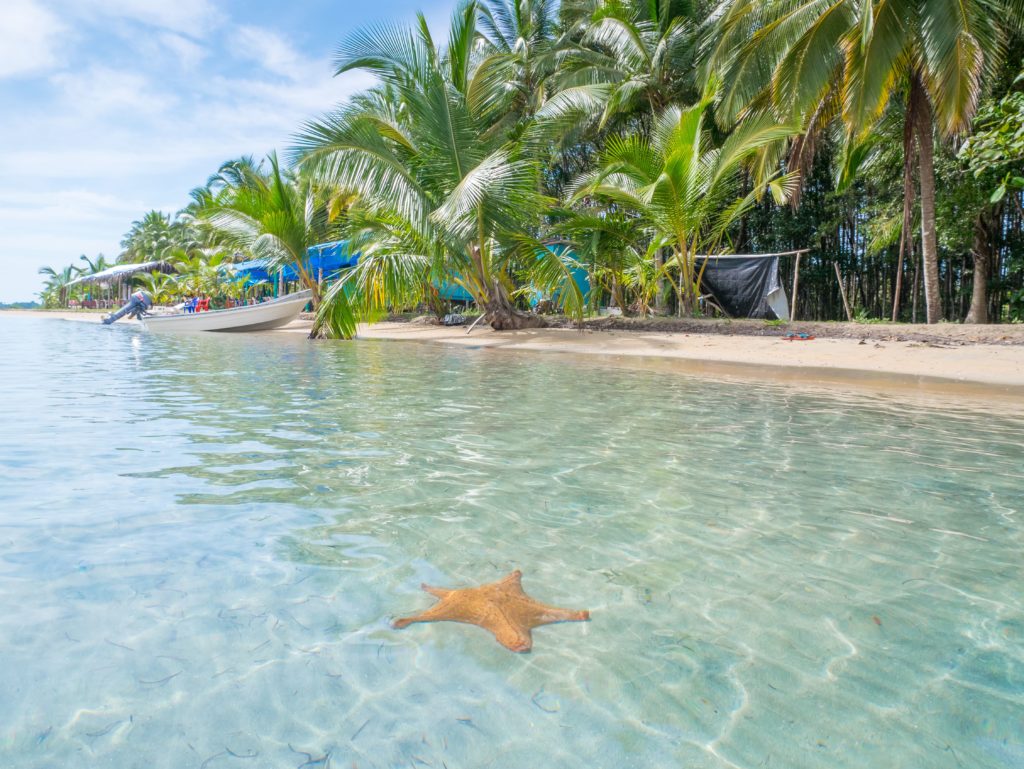 Panama is a beautiful country with beautiful beaches in the southern part of North America. While Panama City is located on a bay, the country's tropical beaches are outside the city.
One of the best beaches in Panama is the Bocas del Toro, located on Bastimentos Island. This beach is perfect for surfing, with a nice breeze and stronger currents. So, it may not be the best destination to travel to with younger children.
How to get there?
To get to any of Panama's beaches, you'll need to fly to Panama City first. For Bocas del Toro, you'll need to take a local flight from Gelabert Airport to Bocas Town Airport. You could also drive or take a bus, but the trek will take you 9 hours, followed by a boat (30 minutes) or ferry (90 minutes) ride. Therefore, we recommend flying unless you plan on renting a car.
Where to stay?
You'll find many places to stay in Bocas del Toro, from hotels to apartments and beach houses. The city has it all. Our favorite accommodation includes the Sun Havens Apartments & Suites, Hotel Cristina, and the Los Balcones Over the Sea. All three are within walking distance from the beach and offer great prices.
8. Sayulita, Mexico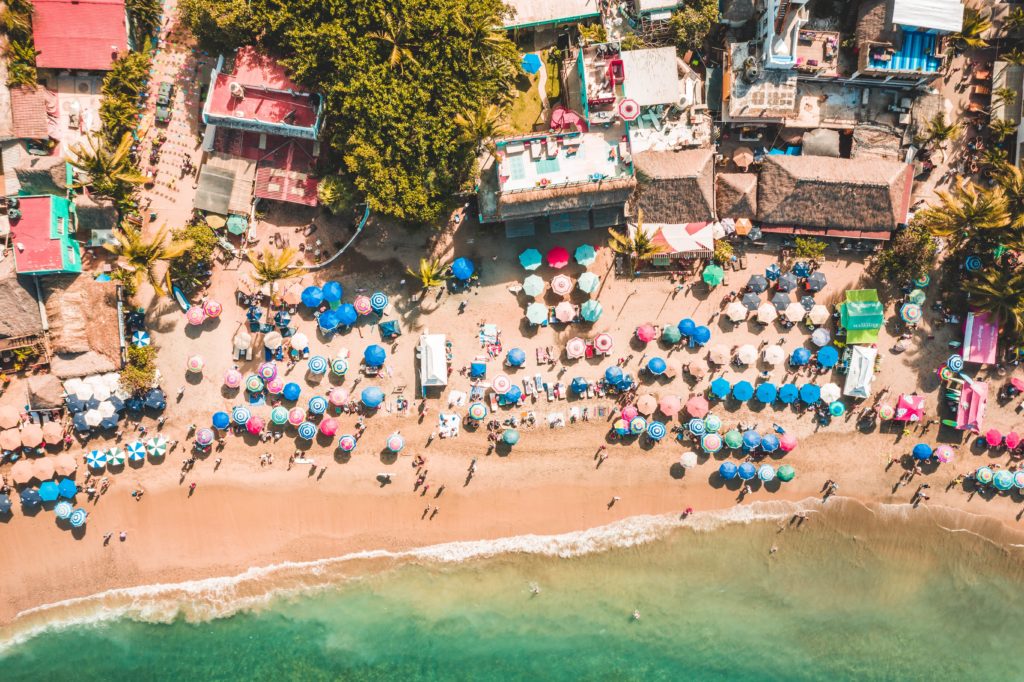 Sayulita is Mexico's hidden gem on the Pacific Ocean. This small town is in the south of Nayarit state, with a population of 2,300 people. Despite its small size, Sayulita has everything you'd want from a tropical destination. Beautiful beaches, surfing, beach restaurants, street food, spas, street bars, and shops. And beautiful mountains and the sea surround all this.
How to get there?
The easiest way to make it to Sayulita is to fly to Puerto Vallarta Ordaz and drive or take a bus to Sayulita.
Where to stay?
Villas Vista Suite has some great quality budget options. The beachfront Hotel Vista Oceana Sayulita is another great choice. While it's a 4-star hotel, they often offer great rooms costing similar to budget options.
You can also check out the many apartments and beach houses available to rent, but make sure to book through a service or website that offers customer protection.
9. El Nido, Palawan Island, Philippines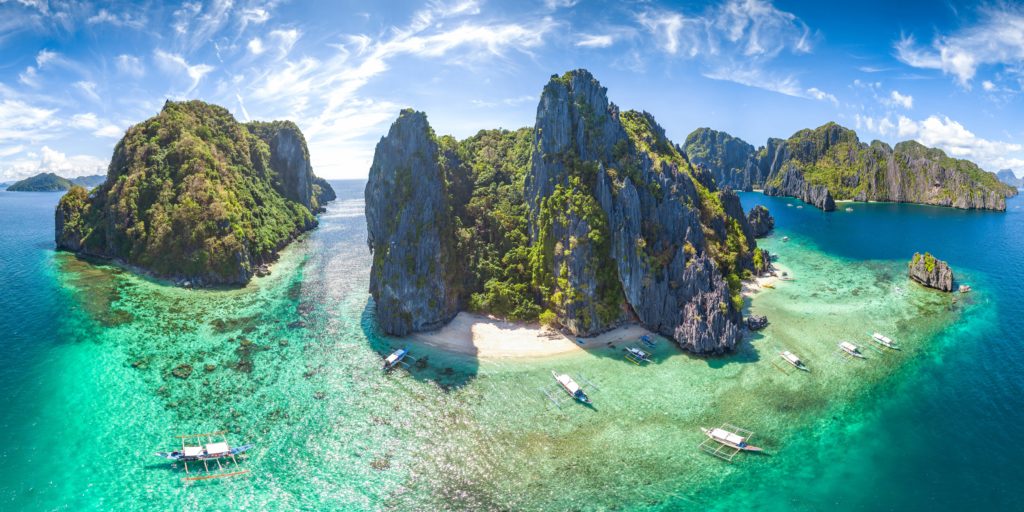 Everybody knows Manila and Cebu, but travelers sometimes forget that the Philippines are made up of more than 7,100 islands. Palawan Island is just one of them, and we couldn't skip it over in our list of affordable beach vacation spots.
When you visit Palawan Island, you'll see clear blue waters, white sand, shipwreck sites, and spectacular limestone cliffs.
Children and adults enjoy visiting the Palawan Heritage Center to learn about the history of Palawan. There's some interesting artwork to appreciate, and the guides are all local artists, so you'll get to experience Palawan's culture on a personal level.
Marimegmeg Beach is one of the best beaches in the area. You can swim, snorkel and kayak there. After hours, the area transforms into a dance night with live DJ sets.
Seven Commandos Beach is another picturesque beach worth visiting, as is Papaya Beach.
How to get there?
Because of its number of islands, the Philippines have over 70 airports in the country. Palawan Island is no exception. You'll need to fly to Puerto Princesa International Airport, followed by a transfer to your hotel.
Where to stay?
There are dozens of hotels in El Nido and the surrounding areas. The best options include The Funny Lion, Cadlao Resort, and El Nido Resorts Miniloc Island. All of them are located by the water, so you can make the most of your beach vacation.
10. Corfu, Greece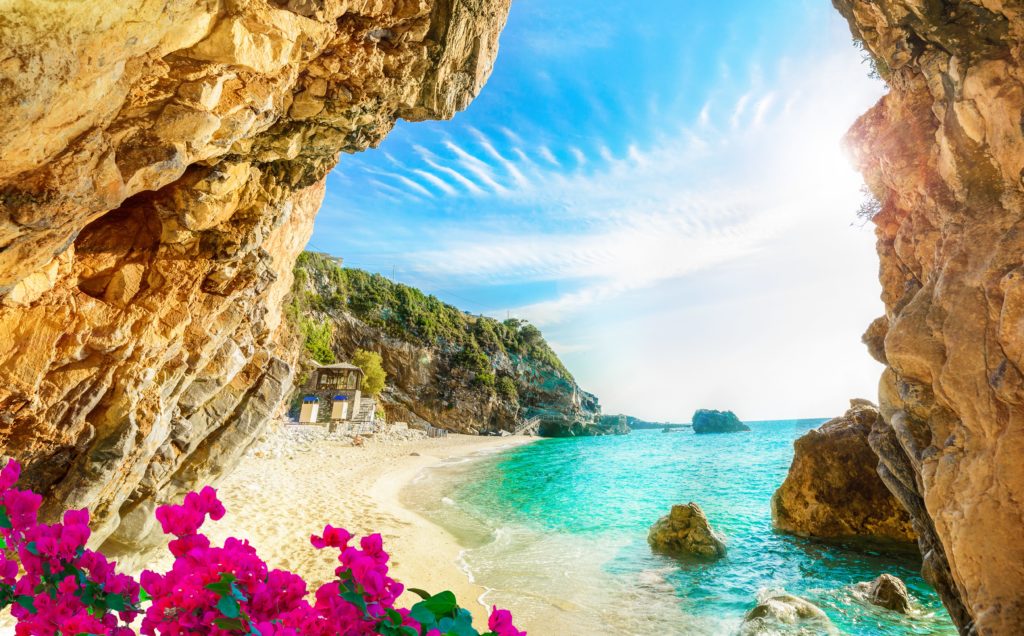 A list of affordable beach vacation spots wouldn't be complete without at least one Greek island. We love Corfu for its cosmopolitan feel, the historical monuments, and the amazingly clear waters of the Ionian Sea.
Apart from swimming and bathing in the sun, Corfu has many sights to see. Visit the historic Achilleion, climb Mount Pantokrator, and stop by the Old Venetian Fortress. You can also take a boat tour to Paxos and the Blue Caves.
How to get there?
There are several ferries in Greece which will take you to Corfu. But the quickest way is to fly from Athens International Airport.
Where to stay?
You'll find many hotels and apartments in Corfu and the surrounding areas. We appreciate the Angsana Corfu Resort & Spa and the Casa Verde apartment in downtown Corfu. Just make sure to book your accommodation in advance.
Conclusion
Hopefully, this guide has given you an idea of some of the best affordable beach vacation options available. But you should also check with a travel agent on the best travel times; some destinations will be more affordable during certain months. When you call an ASAP Tickets agent, you should also ask about saving more when you book your flight and hotel together.
Alternatively, check out our tips on saving on hotel bookings.
Remember that your hotel choice should depend on the kind of vacation you're looking for and who you are traveling with. Some hotel types are better for families, while others are better for solo travelers.
With the right planning and preparation, your affordable beach vacation will happen in no time! To find the lowest flight tickets available by phone only, call us toll-free at +1-(844)-300-7983 or leave a quote request on our website.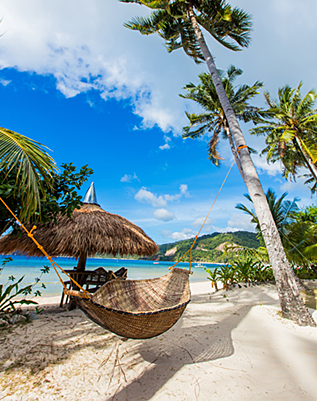 Get it right to your inbox by subscribing to ASAP Tickets weekly emails featuring the hottest flight deals from US to the .
Massive savings • Unsubscribe at any time.
You were sucessfully subscribed
Please check your inbox to confirm the subscription