If you're considering air travel and want to make the most of your journey, Kenya Airways might just be the airline for you. While the airline is known for offering affordable airfare, there are many other advantages to flying with Kenya Airways that go beyond cheap flight tickets. From top-notch service and comfortable seats to unique in-flight entertainment options and special promotions, Kenya Airways is dedicated to providing an unparalleled travel experience. In this blog, we'll delve into some of the many advantages of flying with Kenya Airways that go beyond just the cost of your ticket so that you can make the most of your next journey.
In this Ultimate Guide to Flying with Kenya Airways, we will look at KQ's world-renowned services, such as its business class which is considered the jewel of African aviation
KQ "Kenya Airways" has been operating for more than 45 years and has a fleet of 36 carriers, Flying over 4 million passengers a year both domestically and internationally.
The Ultimate Guide will also be exploring all the aspects of flying with Kenya Airways: cabins, routes, business lounges, and the differing inflight experiences one can expect from economy to the new economy max.
Did you know…

Did you know…
In 2020 KQ was named Africa's leading Airline Brand and Africa's Leading Airline for Business Class and Economy Class by World Travel Awards (WTA).
History of Kenya Airways
The airline's history can be traced back to 1944 when East African Airways (EAA) was formed as a private enterprise. The idea was to connect Mombasa with the United Kingdom. At this point, Kenya was under British rule and was administered as a province of the British Empire. EAA formally began service in 1947 between Mombasa and London. The route was extended to other destinations across Europe in 1958. In 1960, the airline was incorporated as an airway service under the government of Kenya. A few years later, in 1963, the name of the airline was changed to Kenya Airways. The name change was to reflect the growing pan-African ambitions of the airline. Airlift services were initiated in 1968, and in the same year, the airline was granted permission to serve other destinations beyond Europe.
Introducing the KQ Fleet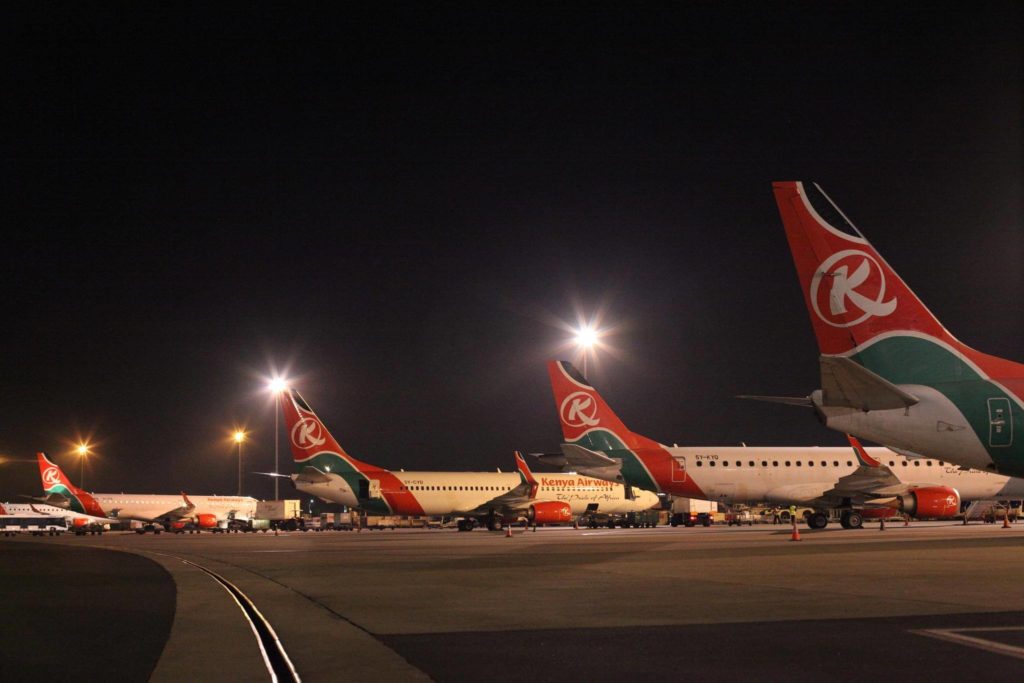 As the pride of Africa, the fleet of KQ flies Kenya's colors with honor. Boasting 4 types of Boeing's the 787-8 – Dreamliner, the 737-800, the 737-700, and 737-300f. All planes have varying amounts of seats allocated for economy and Premier World travelers.
There is also the 15 Embraer E190's -which comes with in-seat individual touch screens and seat pitches of 38 inches for Premier World and 31 inches for Economy.
Once you have booked your ticket with Kenya airways, you will be able to find out what aircraft you will be flying with by checking the flight confirmation email sent to you.
For the full speck of each plane in the fleet, click here.
Kenya Airways Online-Checking In

For those flying economy class, online check-in for international flights opens 30 hours before departure-unless the flights from Kenya to the US or vice averse and your flights from the US to Kenya. Then you can check in 24 hours before and up to one hour before departure. Checking in before you fly will give you the option of choosing your seat.
You can find more tips on the best ways to book International Flights here.
Business Class customers and all SkyTeam Elite Plus members (including Flying Blue Gold and Platinum members) are prioritized at the following.
Ticketing Desks
Check-in areas and drop-off
Document Control and Security
Transfer Desks
Boarding
Baggage Handling
Kenya Airways Business Lounges
Passengers flying SkyTeam business class or SkyTeam Elite Plus will have access to KQ award-winning lounges. The Pride lounge can be found at terminal 1A on the second floor and offers travelers Samsung tabs, high-speed Wi-Fi, snack bars, and multiple TVs for entertainment. In addition, there is also a smoking room if you want to catch up on the game with a whiskey and cigar.
The Simba lounge is on the second floor, known as the "Manyatta" the design of the lounge takes inspiration from the Maasai hut and offers sleeper beds and access to showers. A new initiative from KQ has been to allow premium travelers the option to 'Pay Lounge day pass.' Meaning they have the opportunity to invite their friends, family, or colleagues to any of the lounges. Click here for all the lasted prices and assessability regulations.
For all the latest information on service restrictions in Pride and Simba click here.
Kenya Airways Baggage Allowance
Free Checked Baggage Allowance
This really does depend on what class you are flying, as well as the flight routing. Currently, from Africa to the US for business class, the allowance is 2PC 32kg/70lbs max per passenger, and for economy passengers, it's 2PC 23kg/50lbs max each.
For the full list of free checked baggage allowances click here

Cabin Baggage Allowance
On business class routes, 2 pieces of baggage are allowed with one 1 accessory with a combined total weight of 18kgs/39lbs.
For economy on all routes, 1 piece of baggage and 1 accessory are allowed with the combined total weight of 12kgs/26lbs)
Updated information on what you can and can't take onboard click here

Kenya Airways Onboard Seating

Kenya Airways Standard Seat Selection
Choose between window, middle, or aisle seats, available on all Kenya Airways operated aircraft.

Kenya Airways Economy Comfort
Available on the Dreamliner, you can expect up to 8cm extra legroom.
Front of the cabin for quick exit
Dedicated Overhead Cabin for your carry-on luggage

Kenya Airways Preferred Seats
These are Economy Class seats closer to the front of the plane that allows guests to get off the plane quicker. These seats are available on all Kenya Airways-operated aircraft.
Kenya Airways Super Economy
Located at the front of the Economy cabin, the middle seats are always kept free.

Kenya Airways Economy Max
Allows you to create your own space by booking the seat or row next to you.

Kenya Airways In-Flight Entertainment

The new KQ cinema App is available on select Boeing 737-700 and 737-800 and will allow you to enjoy a vast selection of news channels and movies on a personal device; if screens aren't available on your flight. To download the app for free visit, Google Play, and the App Store.
Currently, due to restrictions, reading material, pens, in-flight entertainment, and earphones will not be provided on any flights. Also, KQ is also advising guests to take onboard their own blankets, as they are only available for selected long-haul routes in Premier world-class.
Kenya Airways In-Flight Dining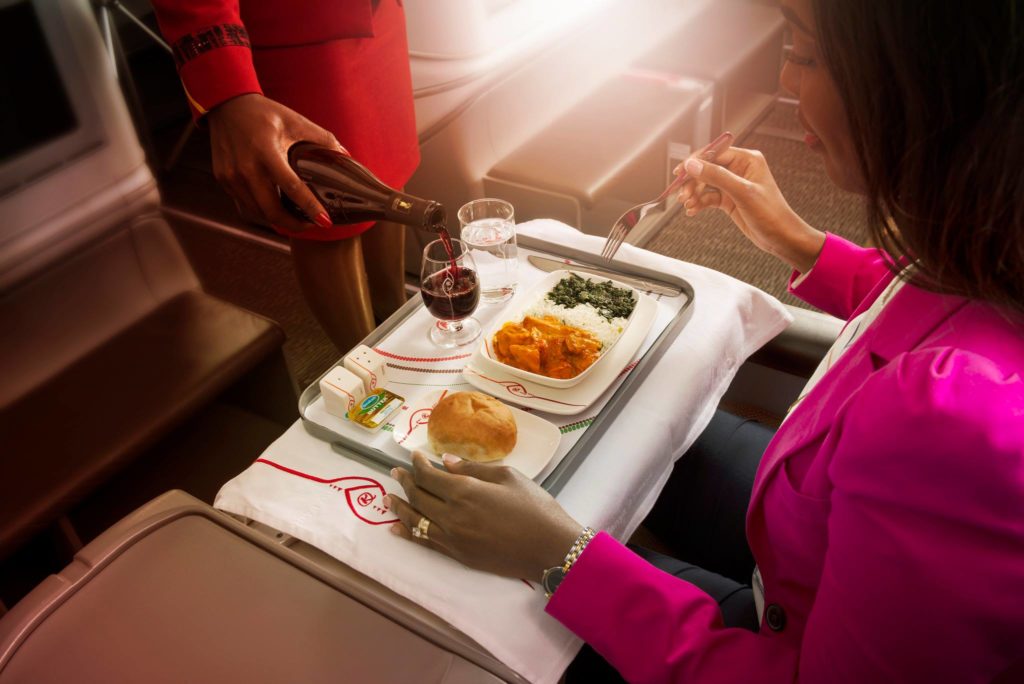 KQ takes onboard dining seriously, especially if you have any particular religious, dietary, or medical requirements. Special meals can be ordered 24 hours before flight departure through your travel agent, or at any KQ sales office, or by request on the booking option on the KQ website.
Click here for a complete list of special meal options.
Kenya Airways Economy Class Meals

International flights with a duration of at least 1 hour and 30 minutes, will serve a hot meal and drink. For international flights of 7 hours, there will be 2 meal services and drinks- with a 3rd meal dependent on the time of arrival.

Ultra-long haul flights with a duration of above 12 hours, you can expect 3 meals and drinks.
Kenya Airways Business Class Meals
Flights less than 1 hour and 30 minutes, non-alcoholic drinks are available, but there is no food service. Champagne is provided on request for international flights above 1 hour and 30 minutes.
For international flights with a duration of above 7 hours, there will be 2nd meal service and drinks.
And speaking of long haul flights here is one of our blogs that you will find valuable: Coping with Long Haul Flights like a Pro

Kenya Airways Routes & Destinations
KQ flies to 54 destinations worldwide, 41 of which are in Africa.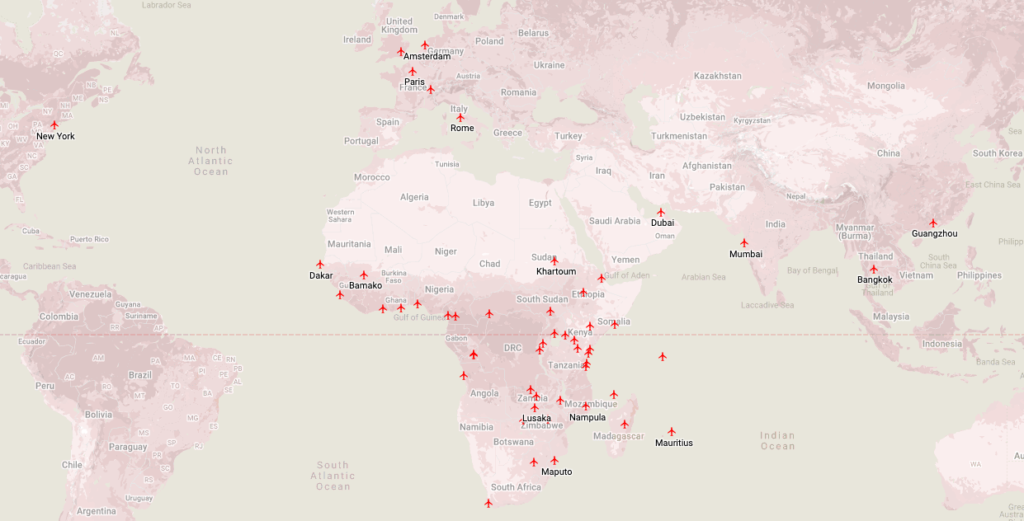 Chicago, New York, Washington, Boston, and San Francisco are the most popular departure points to fly with KQ. For the best deals with up to 50% off air tickets, click here.
Discovering Kenya Airways' New Lounges – A Refreshing Haven
Kenya Airways has two state-of-the-art lounges at terminal 1A on the second floor. The lounges have a capacity of 315 and provide comfort and exclusivity in a serene atmosphere. To cater to the exact needs of fliers, the lounges were designed after customer research. They feature landscapes from across Africa.
The beginning of your lounge journey is enthralling with a picturesque mural of a rainforest with a caption of one of our very own forests: Kakamega forest in western Kenya.
The Business Experience Center is both visually and functionally appealing. The shades of the leaves and the darkness of the ground are green, making the experience center aesthetically pleasing and functionally adequate for the business traveler. Samsung tabs are available for use at various counters and universal sockets for alcove seating. High-speed Wi-Fi is also available.
The passenger who prefers peace and quiet can find it in the informal seating area, which is part of the Savannah theme and is set up like an amphitheater. It does not have a television screen, so people who want to read or relax with a drink can do so here.
The "melting pot," or the "Manyatta," of the Maasai hut is the most prominent feature of this lounge. This theme of community and sharing stands out against the backdrop of the African tradition of gathering around the fire to exchange stories from the past.
After passing through the VVIP door, you notice an austere modernity with the light fusion of an African look. The lounge area is fully furnished with showers to provide secluded privacy. Guests will get a glimpse of Africa and true pride staying in the lounges.
Pride Lounge lies on the second floor, a few feet from the Central Search Portal. Please take the lift to the second floor near gate 17.
Medical & Special Needs Assistance
Travel is often about living rather than just visiting places, which can make things a little more difficult if you need special assistance or have a medical condition. Kenya Airways makes sure that you are always prioritized.
Please consult your doctor before you travel if you have a medical condition, as pre-existing illnesses may require medical documentation before departure.
Covid vaccine certificate requirement by Kenya Airlines
Nationals transiting Kenya to any destination must present a PCR-based COVID-19 negative test certificate.
Previously, passengers who transited through Kenya did not have to get a test certificate, but that has now changed.
Tests taken via the NHS do not qualify for the same.
Please get in touch with your dedicated reservations team if you have any further queries.
Contacts

HEAD OFFICE
Kenya Airways Head Office
Airport North Road, Embakasi
P.O. Box: 19002 – 00501
Nairobi, Kenya
CONTACT CENTER (24 HOURS)
Tel: +254 734 104 747, Mobile: +254 711 024 747
Whatsapp +254 705 474 747
customer.relations@kenya-airways.com
TICKETING OFFICES
AIRPORT OFFICE
Jomo Kenyatta International Airport(JKIA)
Terminal 1A & 1D(Arrivals)
Business hrs: Open 24 hours 7 days a week
ABSA TOWERS
7th Floor from Ground floor
P.O. BOX 41010-00100, Nairobi
Tel: +254 71102 4308/4296/4322
Business hrs Monday – Friday 0830-1700
Saturdays: 0900-1300
closed on Sundays and public holidays.

Conclusion
In conclusion, Kenya Airways is an excellent airline to consider for your next travel adventure. With affordable and competitive prices, you can easily find cheap flights and save money on air travel. However, Kenya Airways offers so much more than just cheap ticket prices. From superior customer service and comfortable seating to delicious in-flight dining and unique entertainment options, flying with Kenya Airways is an experience you will remember. So whether you're planning a short weekend getaway or a long-haul international trip, consider Kenya Airways for an exceptional travel experience beyond lucrative flight deals.
If you're thinking of flying back home or want to explore Africa, then KQ is a fantastic option! For economy and business class travel. To find out when it's the cheapest time to fly to Kenya, check KQ's website. To check out our lowest prices and limited offers, be sure to head to our African deals page.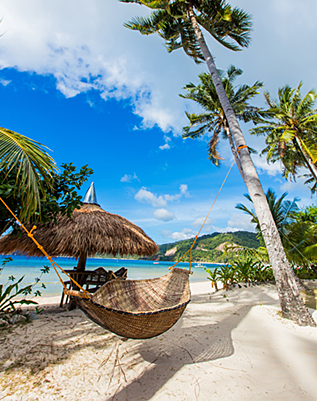 Get it right to your inbox by subscribing to ASAP Tickets weekly emails featuring the hottest flight deals from US to the .
Massive savings • Unsubscribe at any time.
You were sucessfully subscribed
Please check your inbox to confirm the subscription