Going on a US road trip is on most travelers' bucket lists. Even if you've never traveled to the USA, you've heard of Route 66. You may think you'll need a lot of time for a road trip in the States. But you can go on a shorter road trip, and it's just as exciting as driving across the US over several weeks.
We've prepared two shorter itineraries for you. Depending on how much time you have available, you may opt for the shorter trip or the medium-length one.
For Americans, going on a road trip is an affordable way of taking a quick vacation – many cheap domestic flights are available, especially if you're flexible with your travel dates.
International travelers enjoy traveling across the USA as they can see more of the country while traveling between the cities.
Planning a Road Trip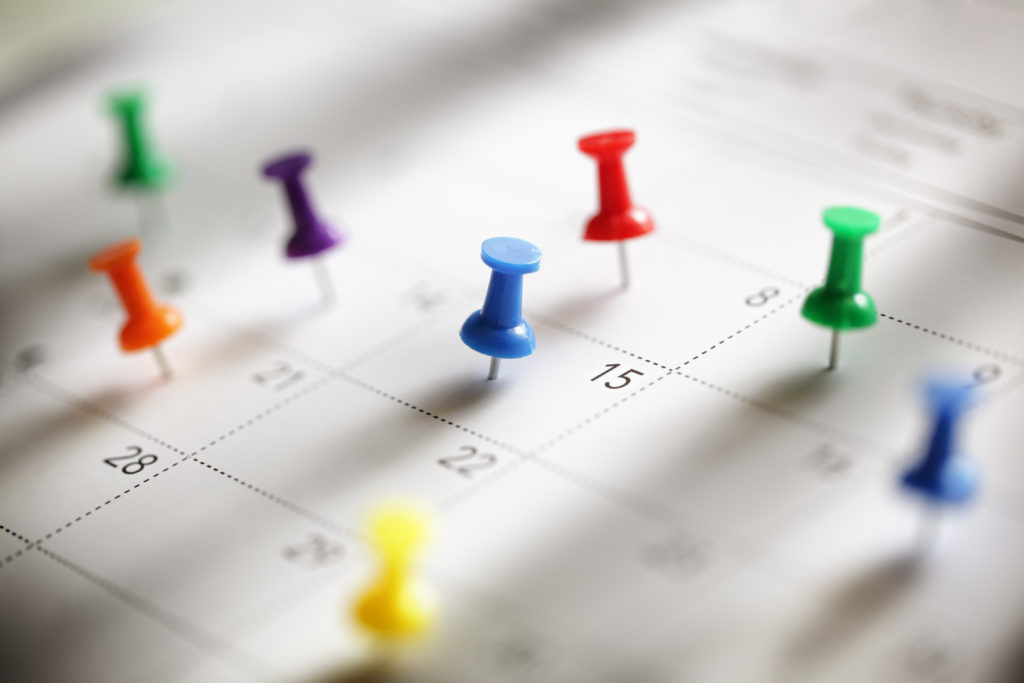 You can always create your own itinerary depending on your travel preferences. To come up with your own US road trip ideas, just follow these steps:
1. Decide where you'll start and end your US road trip
For rental cars, it usually doesn't matter where you drop off the vehicle as long as you do so domestically (dropping off in Canada or Mexico usually costs more). Decide if you want to return the car to the same city you started your journey or elsewhere. However, when planning the road trip, keep in mind that return tickets are usually cheaper.
2. Open up an online map to plan your destinations
You can use Google Maps, Mapquest, or any other preferred service. See which spots you want to visit and how long the drive between them is. As a general rule, you don't want to be driving more than 7 hours a day. That way, you can have time to enjoy your new destination upon arrival and get enough rest to enjoy the next day.
3. Research the hotels and accommodations in the area
You need to consider your budget and what is important to you. Camping can save you money, but not everybody is made for it, and a bout of bad weather can significantly ruin the experience unless you're an adventure traveler. Keep in mind that in addition to booking cheap domestic flights, our agents can also reserve hotels for you.
4. Plan your activities
Read about each stop you plan to make and list 3-5 sights and activities you plan on doing there. You don't need to make an extensive plan, but you need a handful of spots and locations at each stop.
5. Be prepared to improvise
Going on a road trip is a fantastic way to travel the USA. Be flexible and ready to adjust your plans. As you drive, you may discover something you haven't read about but you absolutely want to visit. That's why you need itinerary planning to know where you'll be sleeping and how much you'll be driving. But you can decide on your activities during the journey.
Your US Road Trip
For the itineraries we've planned for you, we've left out longer American road trips, lasting up to a month. There are many great examples of them online. But if you are traveling that long, you'll likely come up with your own custom one. You can also use our shorter road trips as a base and customize them to your liking.
7 Nights On the East Coast – the US Road Trip to Remember Your History Lessons
As already mentioned, American road trips can be short. With so many cheap domestic flights available, you can always take a flight to Washington, DC, and enjoy a week's worth of discovering the East Coast. Discover the national capital, see a musical on Broadway, even swim in the Atlantic and visit the Liberty Bell. And get it done in under a week!
Day 1: Arrive at Dulles Airport (Washington, DC).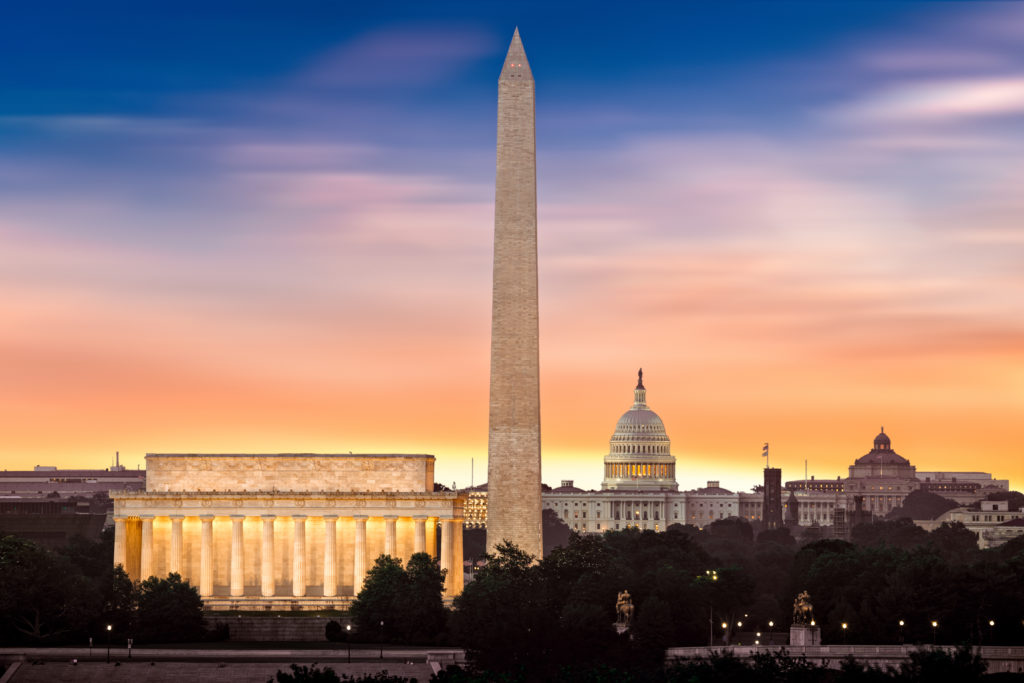 On the first day of your trip, explore the beauty of the nation's capital. Dulles Airport is a big connecting hub, so you'll find many flight deals to Washington, DC. Since you'll be driving, you should stop by the White House. Unless arranged with Congress months in advance, visitors are not allowed inside. However, it's still worth seeing the home of every US President.
Next, head down to the National Mall and the Capitol. You'll probably spend about 3 hours exploring them. So make sure you have lunch in the area.
Round out the day by visiting District Wharf, DC's new neighborhood by the water.
Day 2: Drive to Philadelphia
The drive to Pennsylvania should take you about 90 minutes. The United States is full of amazing cities with historic landmarks, and sometimes travel to Philadelphia gets overlooked. However, it's a beautiful city that was at the core of the creation of the American nation.
When in Philadelphia, you must visit the Liberty Bell and Independence Hall, both conveniently located in Independence National Historical Park. You'll see the iconic symbol of American Independence and visit Independence Hall, where the Founding Fathers debated and adopted the American Declaration of Independence and the Constitution.
You could head down to Reading Terminal Market for lunch. The historic market below a former railroad terminal is a fantastic place to shop for produce and grab a bite. We suggest going for lunch here and tasting Philadelphia's famous cheesesteak or the other delicious foods on offer.
The Benjamin Franklin Parkway is another excellent place to visit and stop at one of its many museums. It's beautiful just to walk along the Parkway. After all, it is modeled after Paris's Champs-Élysées.
Day 3: Drive to New York City, New York

The drive to New York City should clock in at under 2 hours.
There's a reason New York is known as the Big Apple: it is indeed big. And there's a lot that you can do here, so choose you'll need to choose your activities based on your tastes. We'll list a few suggestions, but you may opt for something completely different.
The 9/11 Memorial is a beautiful tribute to the 2,977 people killed in the attacks 2001. It is an emotional place to visit and has become one of the musts in New York.
Broadway has some of the world's best theater.Unless you plan on seeing a specific performance, you can show up at the TKTS booth in Times Square and get discounted last-minute tickets.
Visit Times Square regardless of buying tickets.
Brooklyn's Dumbo district is one of the hippest places to be. Visit local galleries, eat at one of its eateries, and enjoy its modern industrial style.
By the way, with so many flight deals to New York, the city is another great starting point for a US Road Trip.
Day 4: New York
We suggest visiting Central Park on one of the days you're in New York. While you're there, stop at the Metropolitan Museum of Art, one of the world's best art museums. Also, look for Strawberry Fields, the Memorial to John Lennon.
Towards evening, we suggest going to the Top of the Rock on the Empire State Building to get the city's best view.
Another great place to take a walk is the High Line elevated linear park.
Day 5: Drive to Boston, Massachusetts
It will take under 4 hours to make it to Boston.
Like all the cities in this itinerary, Boston has many historical landmarks related to American history and the country's foundation. The Boston Tea Party Ships and Museum are worth a visit to brush up on your history of American independence.
You can also walk the Freedom Trail, which includes 16 nationally-significant historic sites. The trail is 2.5 miles long and is a great walk, and you could also visit the sites that interest you more extensively.
In the evening, head out to Harvard Square in Cambridge, where you can enjoy street performances and have dinner at one of the many restaurants and cafés in the area.
Day 6: Cape Cod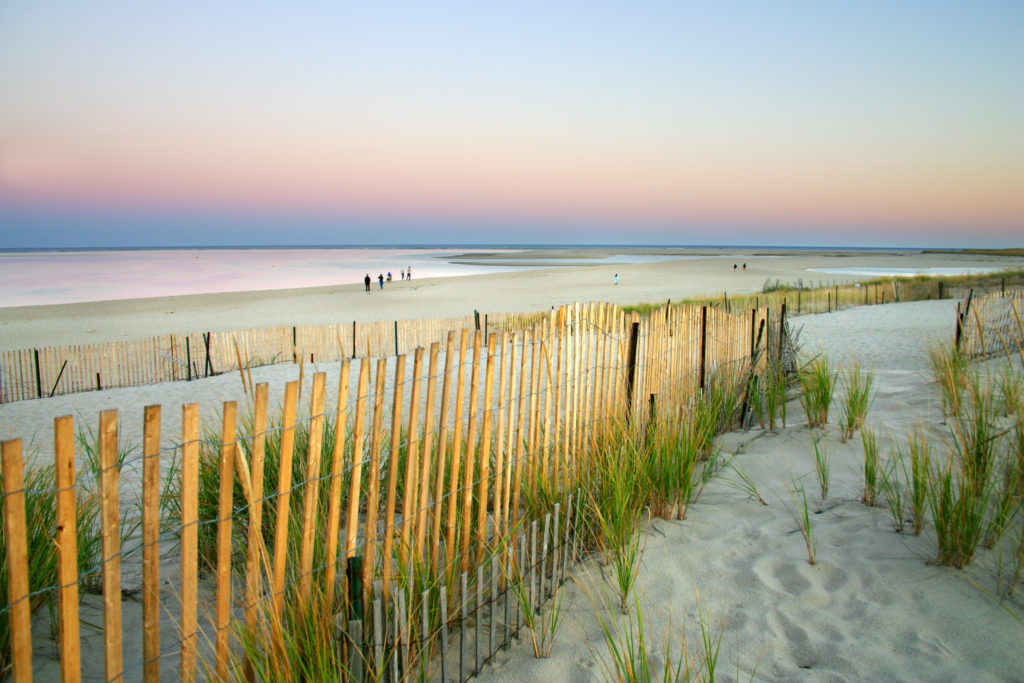 For your second day in Massachusetts, we suggest driving to Cape Cod and visiting one of its beautiful beaches. Most beaches are within an hour's drive. While you can go swimming in Boston, the waters will be much warmer in Cape Cod. Make sure to have lunch in the area. Tasting New England's famed clam chowder is a must if you eat seafood.
If you want to round out the day and make it truly oceanic, you can go on one of the whale-watching tours. The tours usually take place in the morning. Afternoon ones are available during peak season.
Day 7: Drive to Washington, DC.
This day will have the longest drive on your road trip – 7 hours. So, ideally, you want to book an evening flight home.
If you have time left in the city, you can visit Meridian Hill Park. Even an hour is enough to enjoy this beloved location. Near the park, stop by Federalist Pig for some of the best American BBQ you can taste. There's a reason they've won two Michelin Bibs! Yet the prices are not overpriced at all.
14 days in America's National Parks – the US Road Trip to Discover America's Scenic Routes
The United States has plenty of large cities you can visit, but the country also has many amazing National Parks that will awe nature lovers. Did you know the first National Park was created in the United States? Yellowstone National Park was established in 1872. We didn't include it in this 14-day itinerary, but you should consider including it if you plan a longer 30-day drive across the US.
If you're aged 16-62 or are a tourist from outside the US, you can buy an annual National Parks Pass for just $80 (American seniors pay $20 annually). The cost of one pass will cover everyone traveling in your car. Learn more on the National Parks Service website. We'll still list entry prices below if you decide not to visit all the parks.
Day 1: Arrive at Los Angeles International Airport (LAX) and drive to the Joshua Tree National Park
Our 14-day itinerary has longer drives and is more about appreciating the scenic routes of the United States. We chose the City of Angels as the starting point because of the number of cheap flights to Los Angeles, both international and domestic.
Since this US road trip focuses on National Parks, your first real stop will be the Joshua Tree National Park. We suggest driving there on the first day.
When you land in Los Angeles, you could stop on Hollywood Boulevard to see the Stars, have lunch there, and start your US road trip.
The drive to Joshua Tree National Park will take about 2 hours. Save time buying park tickets by purchasing them online on the park's website. The vehicle pass costs $30 and is valid for seven days.
There are plenty of accommodation options around the park. You can camp or stay at a motel or one of the many hotels. Because your vehicle pass is valid for a week, driving in and out of the park won't be a problem. The annual pass also allows unlimited entries.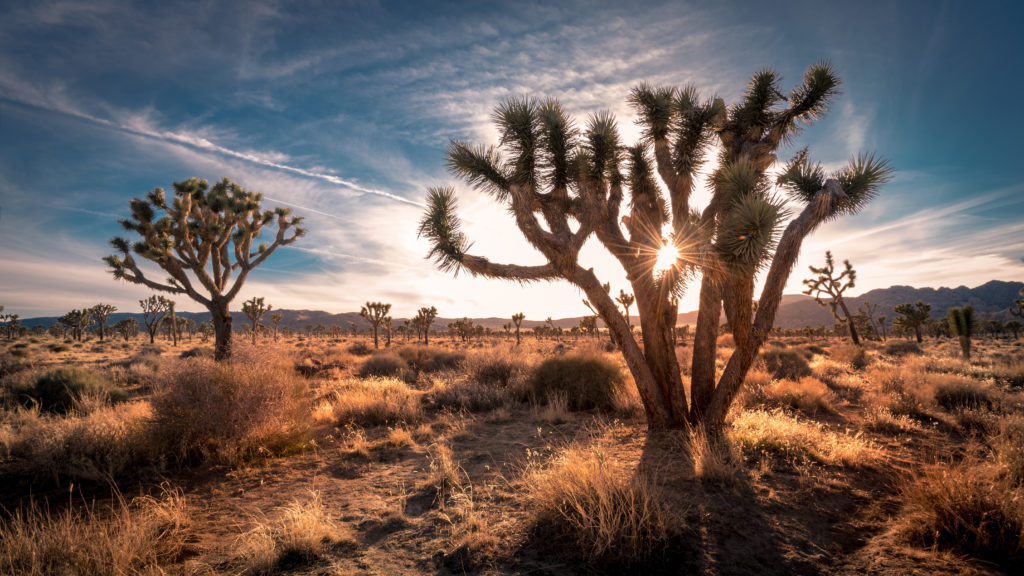 Day 2: Joshua Tree National Park
This park is enormous, and if you weren't on a road trip, you could easily spend a week there! We won't give you a specific park itinerary, as you might enjoy driving through the park and stopping when you want.
But we will mention a few highlights that are worth visiting. You could visit Keys View and Cholla Cactus Garden Trail on your first full day at the park.
Day 3: Joshua Tree National Park
Consider making it to the Barker Dam on your second day in the park. The World Famous Crochet Museum is a kitschy and quirky spot. You could stop by for some selfies. You can drive to Cottonwood Spring and hike in the area, as many hikes start there.
Day 4: Drive to Grand Canyon National Park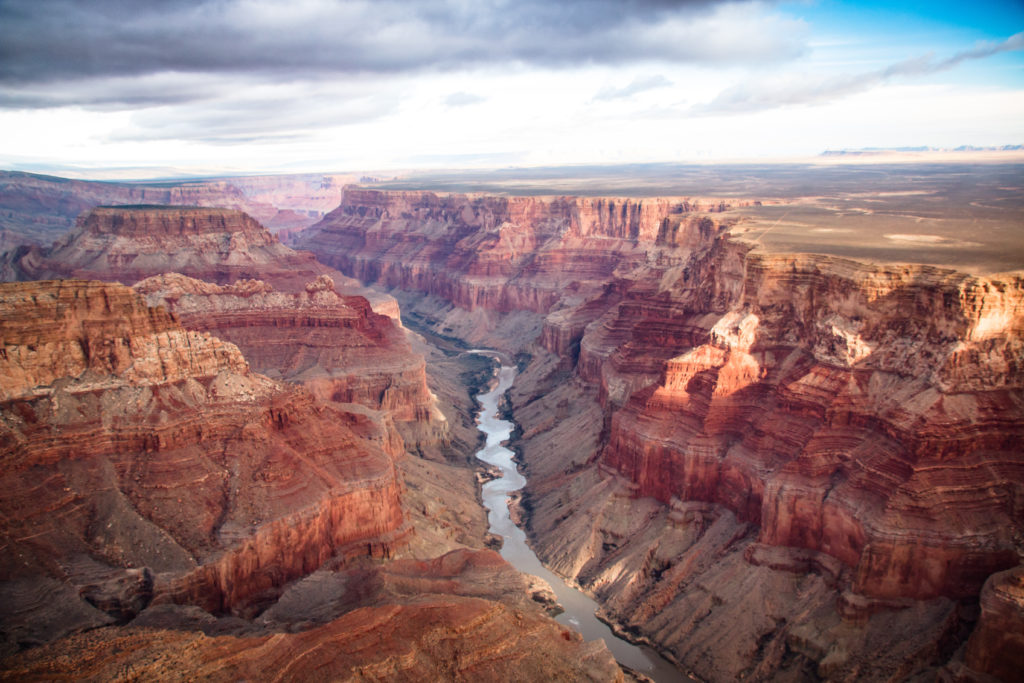 The next step on your national parks road trip is the Grand Canyon National Park. Today will be one of the long diving days on the road trip. It will take about five and a half hours to get there. We suggest making many stops for snacks and enjoying the outdoors. The drive from California to Arizona is incredibly scenic.
Grand Canyon also offers digital vehicle passes, costing $35 for seven days.
It's best to stay in the park, so you don't have to worry about finding parking, and you can stay within walking distance of some incredible sunsets. But you'll need to book ahead of time. The Grand Canyon's website has information on booking in the park.
Staying around the Canyon is also an option and can save you money.
On your first day, you will only have a little time left and will probably be tired after the drive, so we suggest seeing the sunset at the Grand Canyon's South Rim.
Day 5: Grand Canyon National Park
For your second day in the park, walk on the Bright Angel Trail and follow in the footsteps of the Canyon's Indigenous People, early tourists, and miners. You can go on a shorter 1-2 hour hike or go to the Plateau Point, but it will take you the entire day.
Day 6: Grand Canyon National Park
If you hiked the previous day as we suggested, you could drive along Desert View Drive, one of the Canyon's most scenic routes today. You'll get views of the Colorado River and its "Big Bend," as well as the remains of an old Amerindian village at Tusayan Ruin.
Day 7: Drive to Death Valley National Park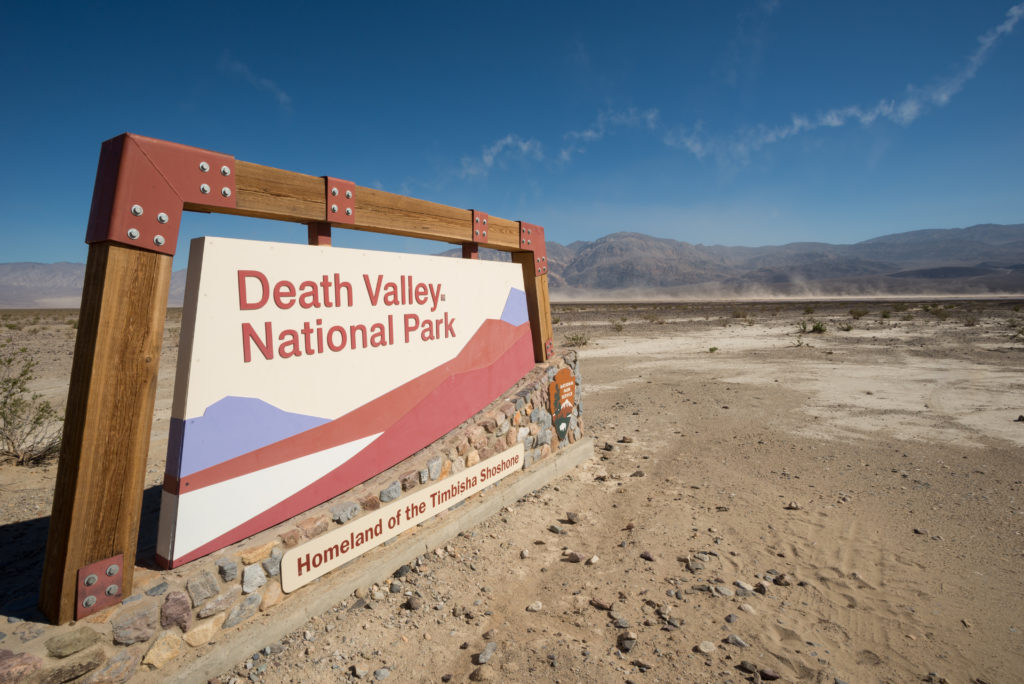 The drive to Death Valley National Park should take you under 6 hours. The entry fee per vehicle is $30.
This is another vast park that you could spend days at. Its size is over 3 million acres, and it has hundreds of backcountry roads and amazing terrain to explore. It's the fifth largest national park in the US. While at the park, you can enjoy both driving through it and going on hikes and walks.
If you want to stay in the park, then The Inn at Death Valley is a great choice. However, the Valley is so huge, so there are several options. You can check them out on the park's website.
On your first day, you could drive to Artists Pallette and get the chance to walk on colorful hills. The colors are all natural and created by the different minerals in the rocks, volcanic deposits, and the reaction of the various metals with oxygen.
Day 8: Death Valley National Park
On your second day at Death Valley, we recommend heading out to Zabriskie Point, which has some of the most captivating views in the park. You'll need to hike up the mountain from the parking lot, so dress accordingly. The view will be worth all your efforts! And it should be some welcome physical activity after driving 6 hours the previous day.
After lunch, you could drive down to Mesquite Flat Sand Dunes, which should showcase some spectacular shadows as the sun begins to set. It is also a great place to observe the night sky in Death Valley.
Day 9: Death Valley National Park
Since this is your last day at Death Valley before driving tomorrow, we suggest hiking through Mosaic Canyon.
Next, you could drive to Ubehebe Crater. It looks incredible from a distance but even more spectacular if you hike down the crater itself.
After the crater, make sure to visit Racetrack Playa, which is nearby. The Racetrack is the home of the mysterious sailing stones (also called moving rocks).
We promise that this is the last extended drive on your 14-day national parks road trip! Today will be another 6-hour drive, so you'll already be used to driving, taking breaks, and making small detours along the way.
There are many hotels in the area, so choose based on your budget. You can also camp here to save a buck and experience nature even more up close.
Depending on when you arrive, consider going on a hike or a drive. We suggest going to the Tunnel View to see the sunset in the evening. It'll be a short walk from the parking lot, so it's a perfect activity to round up your first day at the park.
Day 11: Yosemite National Park
On your second day in Yosemite, visit the Mist Trail and see Vernal Falls and Nevada Falls. There are a few options with hikes lasting 90 minutes to five and a half hours.
Another great trail to visit is the Taft Point Trail. It's a more leisurely hike than the Mist Trail and should take at most an hour to complete.
Day 12: Drive to Sequoia and Kings Canyon National Park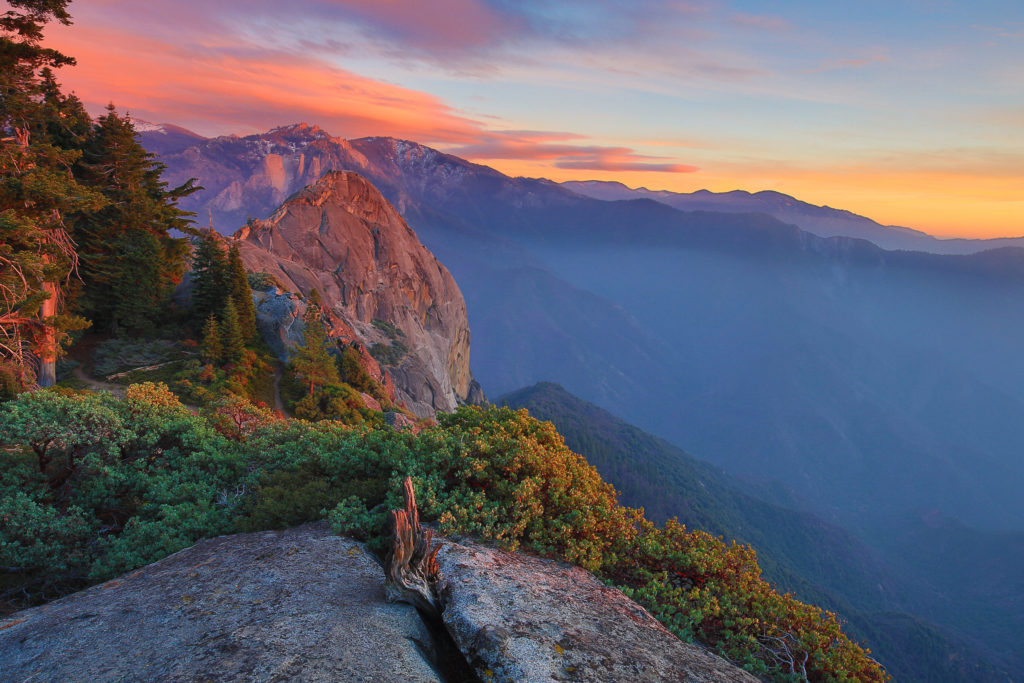 We promised a shorter drive, didn't we? Getting to Sequoia will take you about 2 hours and 40 minutes. The vehicle entrance fee will be $35. Check the different accommodation options and book in advance. Because the park is located near Los Angeles, it can get pretty busy.
On your first day, you could walk the Topokah Falls Trailhead and see the Topokah Waterfall. It's not a difficult trail, but like all the spots on our list, it's lovely.
Day 13: Sequoia and Kings Canyon National Park
It's worth getting up early to take the Sunrise Hike up Moro Rock. It's a moderate walk up some stairs that will take 25 minutes to go up and about 15 minutes to descend.
You should plan a stop at the General Sherman sequoia tree, the largest known tree in the world in terms of its volume, when you put height and growth together.
One of the most scenic routes in the park is Crescent Meadow Trail and Meadow Road. Take a hike or drive the road and make stops along the way. You can walk to General Sherman from the Meadow, so you could make this into a nice hike.
Day 14: Drive to Los Angeles
The drive back to Los Angeles will take under 4 hours. If you plan a later flight, you could visit the Griffith Observatory for a stellar view of downtown Los Angeles. Another great spot is the Original Farmers Market. Stop by for a delicious lunch or supper or pick up some snacks for the flight home.
Important to Remember
It's essential to pick the right car when planning a road trip. You don't need to get a premium one, but it needs to be comfortable. After all, you'll spend much time in the driver's seat or as a passenger.
Your car should have enough space to stretch your legs out comfortably. You may also appreciate a car that's not too small, so it's easier to control it at higher speeds and longer distances. Once a car is more stable, it vibrates less, producing less sound. So, don't go for ultra-compact vehicles for longer trips.
Booking your car rental and flight tickets in advance will save you money. You can contact a travel agent to book flights that suit your dates. They can also help with car rentals and hotels, but you can always do your research online first.
As already mentioned, you can save on admission by getting an annual pass to all national parks. The great thing is that the pass is valid for a year, so you could use it for another road trip within 12 months. So once you're done with 14 days out west, you could start to plan a driving trip in the east.
To book cheap domestic flights, call us toll-free at +1-(844)-300-7983 or submit a quote request on our website. Happy travels!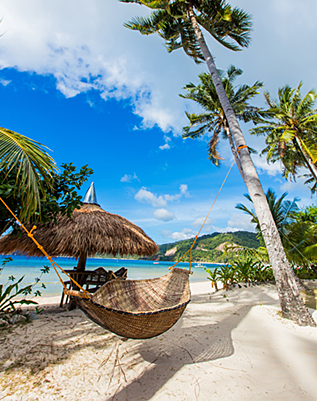 Get it right to your inbox by subscribing to ASAP Tickets weekly emails featuring the hottest flight deals from US to the .
Massive savings • Unsubscribe at any time.
You were sucessfully subscribed
Please check your inbox to confirm the subscription