In 1979, Qantas Airways introduced the world to the advantages of business class services as an alternative to first and economy class. Today, most major airlines have taken on board this concept and also offer travelers the choice of three service classes (plus the newest member of the group – Premium Economy.)
If you put airline classes on levels, business class is right above economy class. Although they seem so close, the difference between them is enormous.
So, the main question is – is it worth it to pay more for extra comfort?
Or can you – fly Economy and still enjoy all Business lounge advantages?
Business vs Economy Class Airport Benefits – the battle is on!
Business Class
Lounge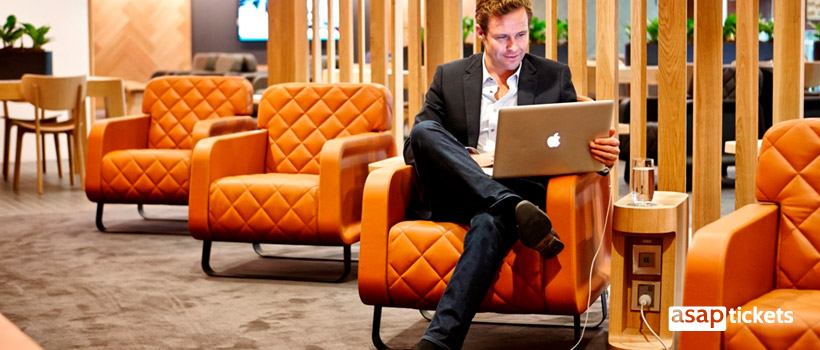 Business class passengers have access to special, separate lounges to relax before the next flight. Lounges are private and have an excellent five-star service – starting from endless food choices and ending with free massages.
Well designed. Every airline has its own unique style. What do they have in common? Priority Nr.1 – excellent customer service! Depending on your destination you can experience the classic and luxurious Qatar Airways lounges to spacious and exotic Turkish Airlines lounges.
Ultimate entertainment & comfort. Business lounge design is always luxurious and exquisite, relaxing areas are arranged with comfortable premium class leather chairs and tables with multiple power outlets. Guests also have access to unlimited, free Wi-Fi, newspaper and magazine stand.
Free massage? For extra comfort, you can book a free massage while drinking an expensive glass of champagne or take a power nap in one of the sleeping areas. After relaxing – freshen up in a private shower suite and get ready for your next flight.
Lounge dining area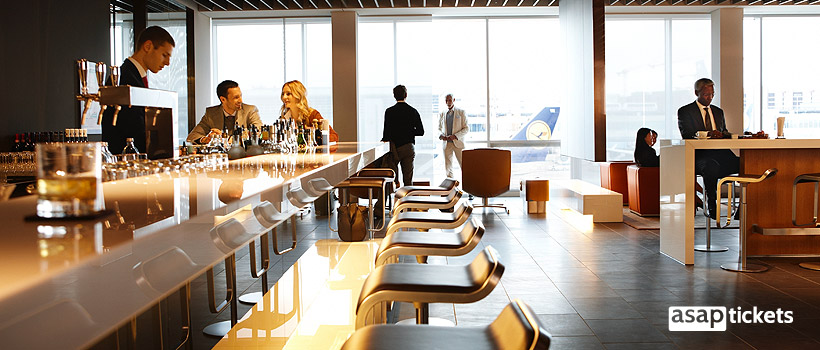 Free & Unlimited. When flying Business class not only will your muscles thank you, but your taste buds too. Business class lounges offer excellent food services – free buffet-style meals, unlimited drinks (including alcohol), an open bar, a wide assortment of desserts, salads, and other fresh, high-quality foods.
Attention – it might be too tasty! You will be served by professional chefs and waiters. Your time at the airport will seem like a five-star restaurant or a hotel visit – it's a nice touch before and after the trip.
Check-in and Boarding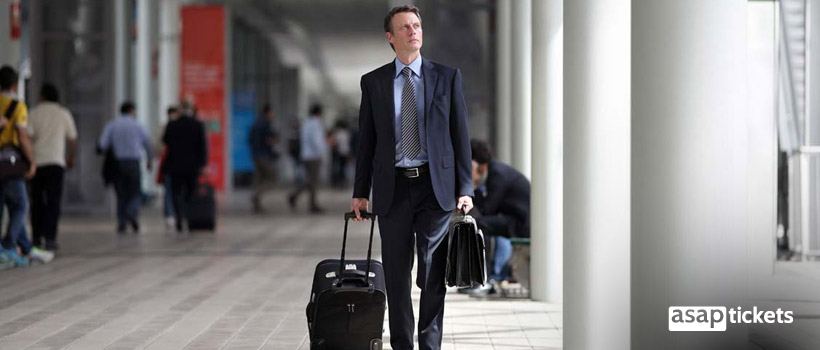 No lines? With business class priority you have easy access to a separate queue for check-in and a priority boarding. There is no rush and no lines.
Economy class
Airport waiting area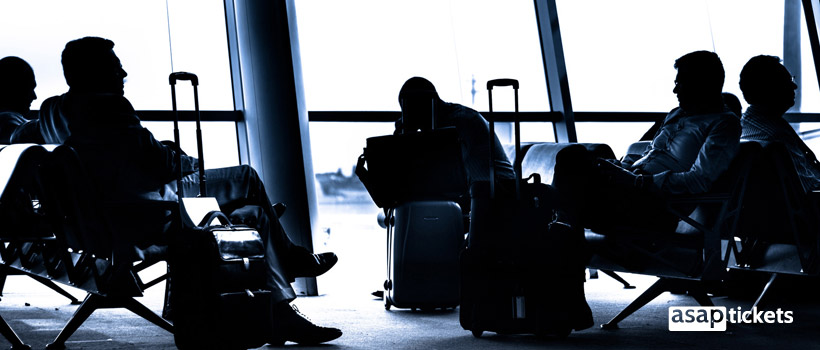 Excuse me! Can you scooch over? Seats in the airport waiting areas are designed to be ergonomic and comfortable. Nevertheless, after spending many hours in a cramped seat your body will feel exhausted.
It might be too noisy. To make yourself as comfortable as possible in the airport's waiting area during layovers, bring some earplugs, a sleep mask, a pillow and a blanket if you're planning to get some rest – or take a book or laptop to make the time pass more quickly.
For a better sleeping experience:
Choose a spot closer to other people who are sleeping – this way you won't be disturbed as much
Look around – you might find more comfortable seats or specially designed chairs for sleeping in a different terminal
Sleep in view of security cameras or guards to reduce the chances of someone stealing from you
Remember to set your alarm or write a note: "Wake me up at 5 a.m., thank you :)"
What do you mean I can't charge my phone?! Keep in mind that it might be difficult to charge your electrical device in the airport waiting area. Power outlets are not usually very accessible – and if they are, there might already be a line of people waiting to charge their phones. For peace of mind, take an extra battery or a portable charger with you.
➔ To find the closest power outlet in the airport, look for places where cleaners would logically need to plug in their vacuum cleaners – for example, under seats or on pillars.
Airport dining area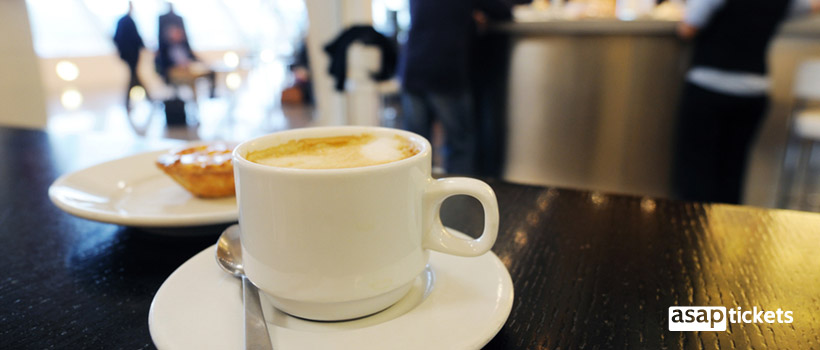 How much does it cost?! Airport dining areas offer a wide range of cafes, restaurants, buffets, and other places to eat. But, as you might have noticed, eating at the airport is usually very pricey – a soft drink, sandwich, and snack can make a big dent in your wallet. So, look for the closest drinking water fountain and if possible, pick a nutritious, healthy meal instead of fast food.
Sorry, we're closed. Remember that most food outlets close by the time the last flight is due to leave. You'll want to stock up on supplies of water and snacks before everything shuts down.
Check-in and boarding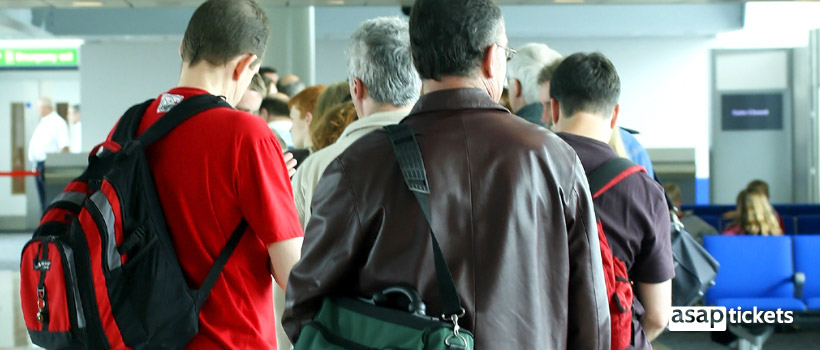 Ahh, a line again. Don't miss your flight – get to the gate on time. Major international airports are like an enormous maze that's always crowded with unavoidable lines. If you find yourself on the far side of the airport as your departure time approaches, get your stuff and move closer to the gate. We've all been there and know that it's better to be early when traveling economy.
But whether you travel economy or business class, you can always check in online to save time at the airport.
Is it worth paying more for extra comfort?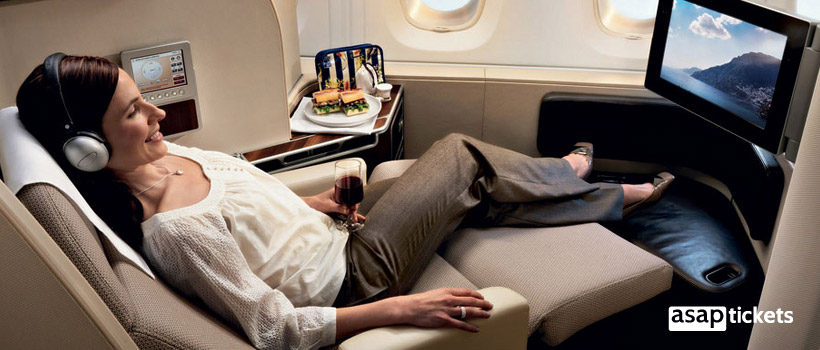 Business class has many benefits, especially when traveling with long waits between flights. Lounge services help you get through jetlag and fatigue more easily by giving you a chance to rest, freshen up, eat a healthy meal and board more quickly.
Mix it up – fly economy & get a one-day pass
If you have a long wait between flights or your flight is delayed and you have to spend a lot of time at the airport – but not enough to book a room at the closest hotel – you can always consider buying a one-day pass to the business class lounge.
Save money – fly Economy
Relax like a boss – get a one-day pass to the business class lounge
You can mix it up by saving money with an unpublished airfare (flying economy) and spending a little extra on a pass to the business lounge. It usually costs around $50 and gives you access to all business class services.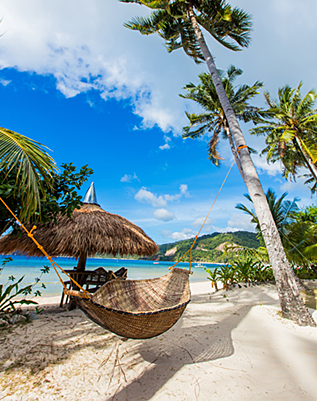 Get it right to your inbox by subscribing to ASAP Tickets weekly emails featuring the hottest flight deals from US to the .
Massive savings • Unsubscribe at any time.
You were sucessfully subscribed
Please check your inbox to confirm the subscription