Open any travel website and you'll see dozens of cruises: from luxury cruise liners to a list of the best cruise packages. There are just so many to choose from, so much information, so many reviews. We decided to put together a list of 5 of the World's Top-Rated cruises for you to make your search easier.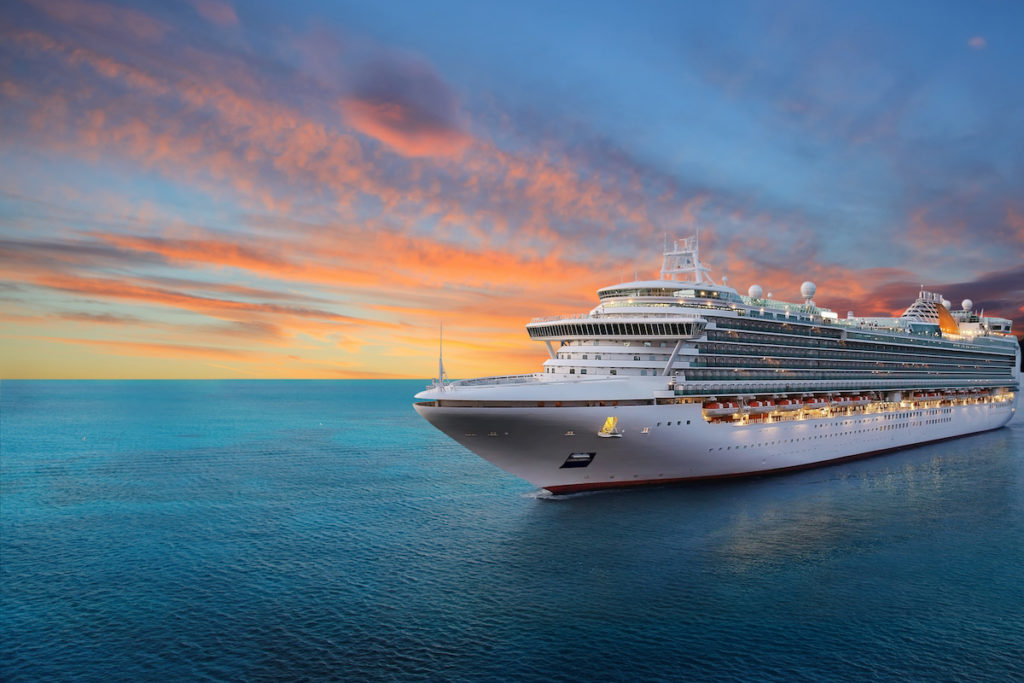 Many factors will play into your choice of a cruise. The most important one, however, is location and dates. You want to select the best cruise that travels to a place you want to visit and at a time when you can travel. Both location and dates are also crucial to be able to book cheap flights to the port of call of your cruise. This is where our agents can help. Call us toll-free 24/7 at 844-300-7983.
The next consideration is the type of experience you are looking for. Some cruises are family-oriented, others are romantic; some will have lots of on-cruise sports and events, while others focus on on-land sightseeing and visiting landmarks. 
Taking a vacation on a cruise ship is different from traditional travel, because apart from visiting different ports and cities, you spend most of your time on a ship. The cruise is like a city in itself with restaurants, theatres, spas and onboard entertainment and activities. The ship is one of the destinations on your vacation, so it's important to book a cruise that's right for you.
Here's our list of the highest-rated cruises for 2023: 
Viking Venus, Viking Ocean Cruises
Seven Seas Splendor, Regent Seven Seas Cruises
Seabourn Ovation, Seabourn Cruises
Oceania Riviera, Oceania Cruises
Scarlet Lady, Virgin Voyages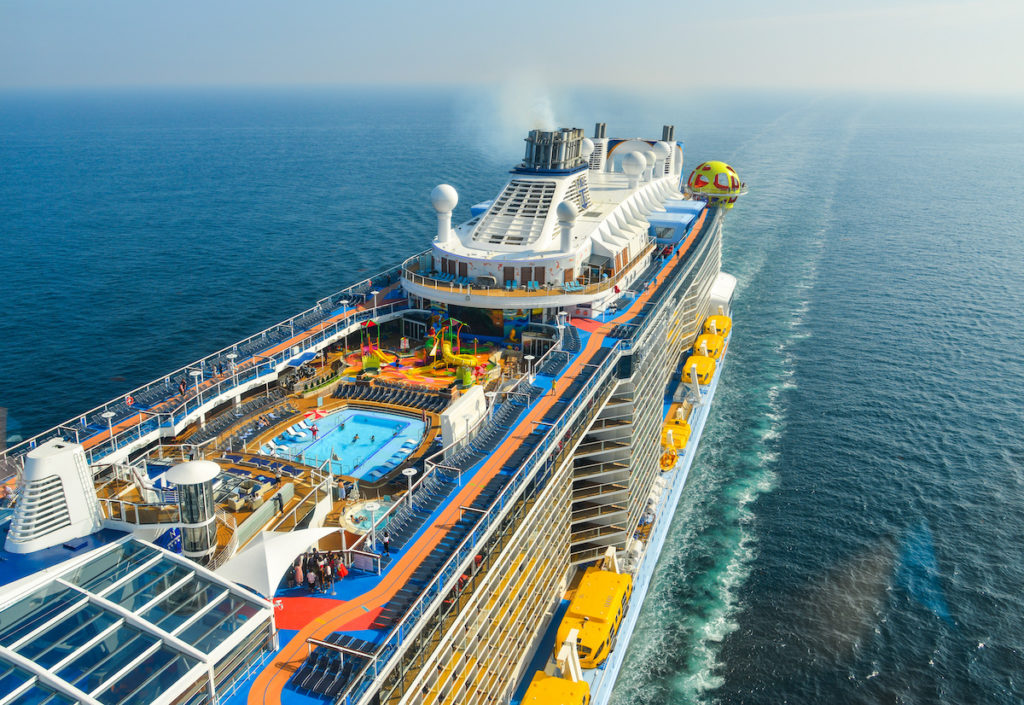 The Best Cruise Lines & Ships of 2023 – A Closer Look at the Five Highest-Rated Cruises 
Our list of the highest-rated cruises 2023 includes a variety that should please most travelers. We've selected cruises that have a lower number of guests than average cruise lines, because they offer a more personalized experience. 
Viking Venus by Viking Ocean Cruises
Viking Venus is a moderately-sized cruise that can hold up to 930 guests. The ship was built in 2021, so you'll be traveling on one of the latest luxury cruise liners if you opt for the Viking Venus. All the rooms on the ship are equipped with a veranda. You can choose between the simpler Veranda Stateroom to the Owner's Suite and everything in between. All the accommodation is top-notch, and you will be comfortable no matter which room you choose.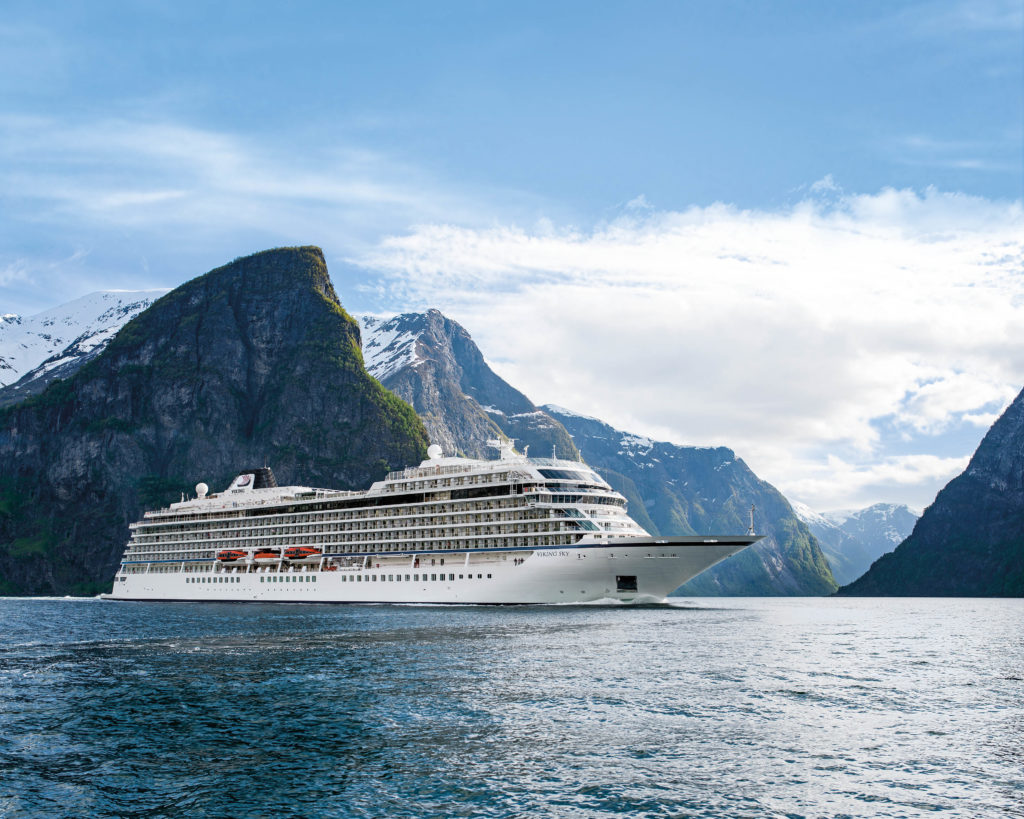 With an onboard spa, a jazz lounge, a cooking school, fresh sushi and seafood daily, the cruise is a better choice for adults traveling without children. While the cruise caters to older adults, if you enjoy a quieter pace and less flashy entertainment, then this is an excellent option. But it's not all about cooking and bathing at a spa! The ship's Torshavn night club is frequented by its younger guests who enjoy dancing to rock music and spending late nights out. 
Viking Venus has all the amenities and comforts you'd expect from a luxury cruise. For those who need to stay in touch with the office, the onboard Wi-Fi is superb, so you can sneak in some work sessions or Skype your friends.
Please note that there is no on-ship casino on the Viking Venus, but other cruises on our list do have casinos!
Seven Seas Splendor by Regent Seven Seas Cruises
The Seven Seas Splendor luxury cruise ship has room for up to 746 guests who are catered to by 548 crew members. So, you can be certain that you will be well-treated and attended to. The ship has suites ranging from the moderately-sized Veranda Suite at 93.5 sq. feet to the 1354 sq. Feet Regent Suite.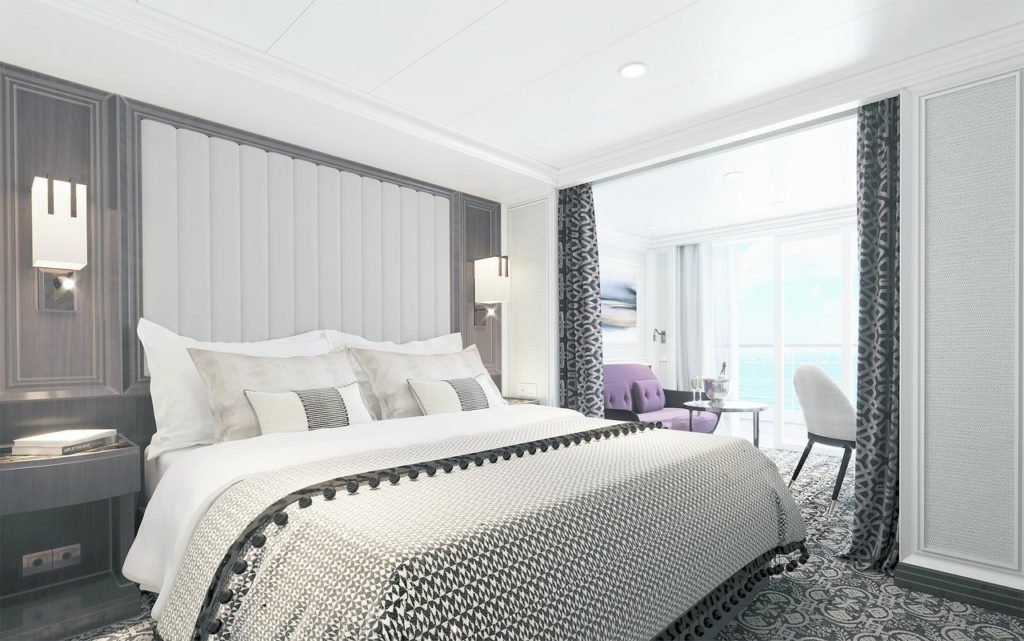 With eight on-board restaurants, you won't tire of the menu and will always have a choice of food options to choose from: French, Italian, pan-Asian, and grilled options, the Splendor has it all. There's also a cooking school for you to learn to prepare local specialties of the regions you'll be visiting. 
The ship has a fitness center to keep you active. You can visit the onboard spa to restore and relax after you do so. Or, if you simply need some time for yourself.
Like all cruises, there's daily live entertainment which includes a cabaret and live music.
The cruise offers amazing, detailed excursions which really go deep into the cities and don't just stay port-side.
Seabourn Ovation by Seabourn Cruises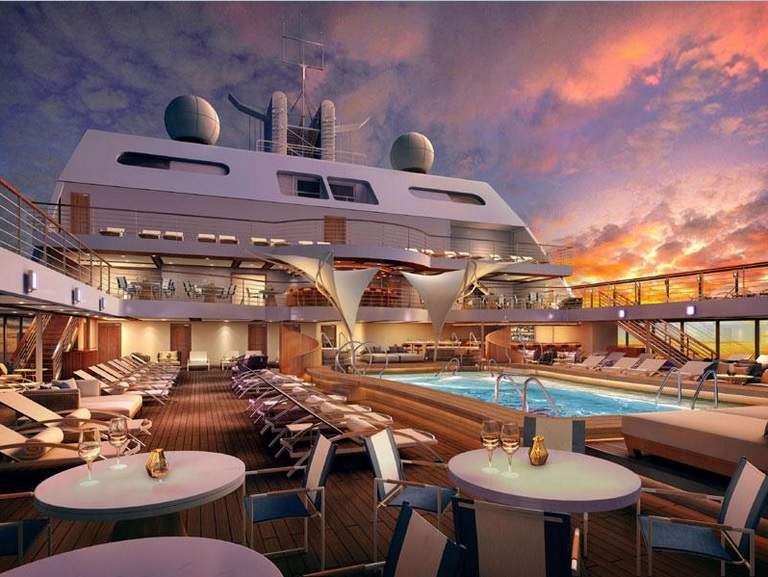 Seabourn Ovation is a perfect example of the new trend for small ship cruising. The ship only has 300 suites, but don't think you'll be losing out on the services offered. Included in your cruise package are fresh daily dishes created by Seabourn chefs, access to the onboard fitness center, complimentary chilled caviar and ice-cold champagne served to you by the ship's crew as you enjoy the beaches. There are four restaurants for you to choose from and two bars. There's also a spa on board, but you'll have to pay extra for it. 
The ship has four types of suites, including smaller veranda suites and bigger penthouse suites. While each suite has its advantages, namely size, all of them come with a veranda and are extremely comfortable; traveling in any of them will be pleasant and convenient.
Seabourn's crews are renowned for going well out of their way to accommodate customers and will know your name and be ready to help you with any special requests you may have. The reason we chose Seabourn Ovation over the company's other ships is that it's the only one to use the ultra-high-speed-internet, so you won't be slowed down on days when you want to read up on the news or watch the latest episode of your favorite show. However, you're not likely to be bored with all the world-class entertainment and activities that take place on Seabourn Ovation. 
Oceania Riviera by Oceania Cruises
The Oceania Riviera is a luxury ship built in 2012, but was just refurbished in 2022, so it feels sparking new. With six gourmet restaurants included in its price, this cruise will not bore you with the same old breakfasts and suppers.
Like all luxury offers, the cruise will keep you entertained in the evenings and busy during the day. If you want to have a bit of fun, then visit the on-cruise casino or drop by one of the bars. And when you need to relax, you can always go to the ship's spa and wellness center. The Oceania Riviera has an onboard cooking school and an Artist Loft where artists-in-residence offer engaging workshops for the guests. The Riviera also invites a guest speaker to talk about topics related to the destinations travelled – you'll get to learn the cultural contexts.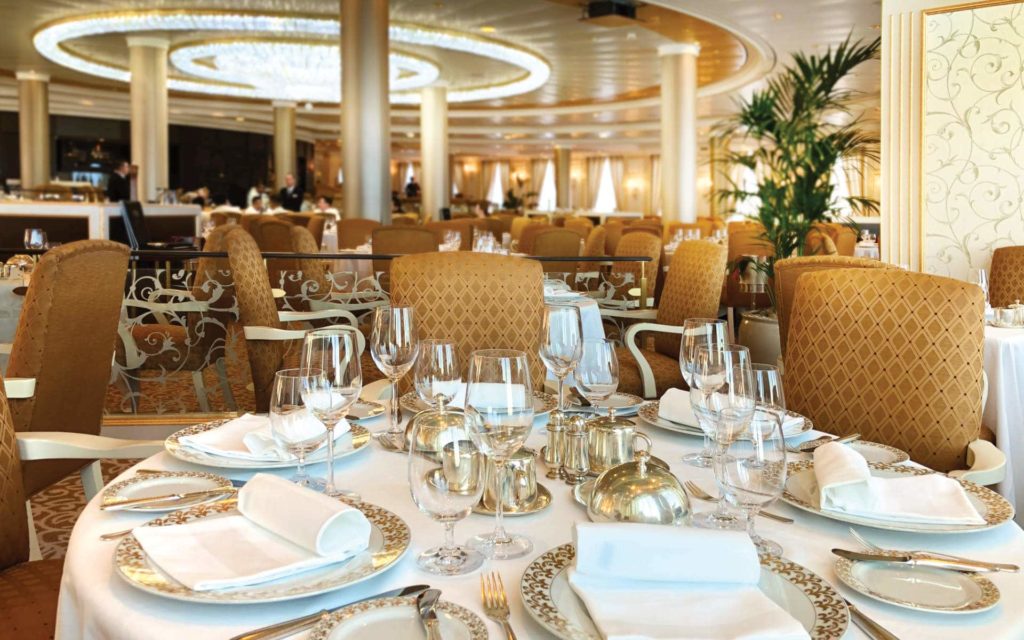 Accommodating 1238 guests, this is one of the bigger ships on our list, but it's still small enough to be able to dock at ports that the huge liners can't. This makes for some exciting routes. One consideration is that the Riviera's schedule has stops at new ports almost daily, which means you'll be on an early-morning schedule. This will be perfect for early birds, but if you enjoy late nights and sleeping in, then choosing our next cruise on the list may be for you. 
Scarlet Lady by Virgin Voyages
The Scarlet Lady is the kind of cruise that you'd expect Richard Branson's Virgin to organize. This cruise is adults-only, has an on-ship tattoo shop, and sultry late-night entertainment. There are DJs spinning tunes, many of the crew have hip tattoos and piercing, the ship is busy and fun. Whereas many cruise ships cater to older audiences and families, Scarlet Lady is all about adults who are young at heart (usually younger than on the other cruises in this list) and want to have a great cruise party.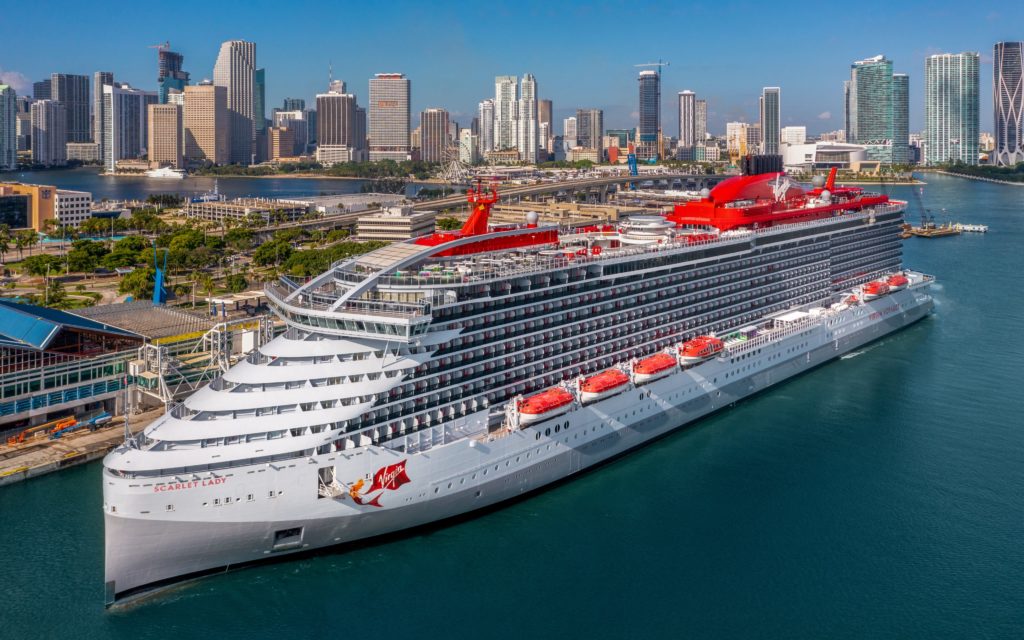 The cruise travels the Carribean from Miami, which is a top party destination itself, so you can start the party onshore and continue it on ship. There are over ten restaurants that you have your meals at, and everyone agrees that the food on this cruise is exceptional. There's onboard Wi-Fi, and you can use the Virgin app to book restaurants and plan your cruise life on the ship.
The maximum number of guests is 2750, making this our biggest ship on the list, but if you're going to have a big hip ship party, then it's best to enjoy it with more people!
Experience Luxury Onboard: What to Expect from These 5 Five-Star Cruise Packages?
All the cruises on our list offer five-star cruise packages that include each ship's features: the onboard entertainment and activities, your choice of luxurious cabins onboard, fine cuisine, spas and fitness centers. In terms of excursions and on-land activities, each package offers you a choice and you select the ones that interest you and your companion travelers.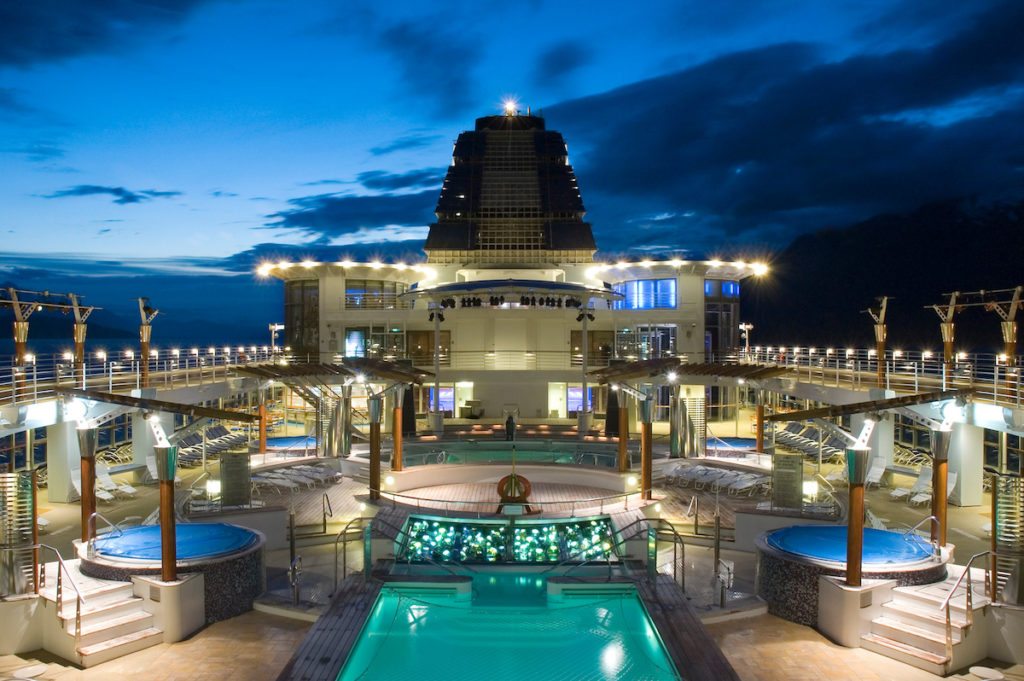 All the cruises have their fine dining options included in the price but most of the time you will need to pay for the onboard alcohol. But there are exceptions:
Onboard the Viking Venus, drinks come included with lunch and dinner. So, during lunch and dinner wine, beer and soft drinks are free. They also allow you to bring alcohol on board and won't charge a cork fee. 
On Seven Seas Splendor, alcoholic beverages, including fine wines, beer and premium spirits, are included in the cruise fare. They do, however, have a Connoisseur's list of ultra-premium wines and liquors that cost extra. You can also bring alcohol on board without a cork fee. 
You can take alcohol aboard Seabourn Ovation, but you'll have to pay cork fees to consume it. The good news is that beer, wine, spirits and Champagne are included in the cruise price. 
When cruising on the Oceania Riviera, you'll have to pay for your drinks. But there are free drinks during the captain's welcome reception, as well as well for during past-passenger receptions. There are also promotional fares which include a complimentary House Select drinks package. Each cabin can bring a maximum of three personal bottles of alcohol. If they are to be consumed in a public space, a $25 corkage fee will be charged. 
Scarlet Lady only allows two bottles of wine on board, which you can consume in your cabin. The rest of the alcohol available onboard needs to be paid for. 
Also, keep in mind that the drinking age on all these ships is 21 years old and older.
As already mentioned, the shows and entertainment are top notch on all the cruises. Our favorites include Scarlet Lady's amazing circus performances, Viking Venus' musical revues, and the Tim Rice show on the Seabourn Ovation. 
Before you decide on the cruise you'll take, consider its schedule. If there are port stops daily, then it'll most likely be an in-bed-by-midnight schedule, because you'll want to visit the city, go on an excursion, make it back to dinner and be ready to do the same on the following day. Having more sea days between ports means you have more of an opportunity to enjoy the late-night fun.
You can rest assured that all the onboard cabins and suites will be luxurious and comfortable because we've examined the best cruises and have selected the world's top-rated cruise ships for you.
Everything You Need to Know Before Booking a Luxury Cruise Line – Preparing for Your Trip 
As already mentioned, the most important tip for first-time cruises is to select a cruise that fits your lifestyle and will travel to places you'd want to visit.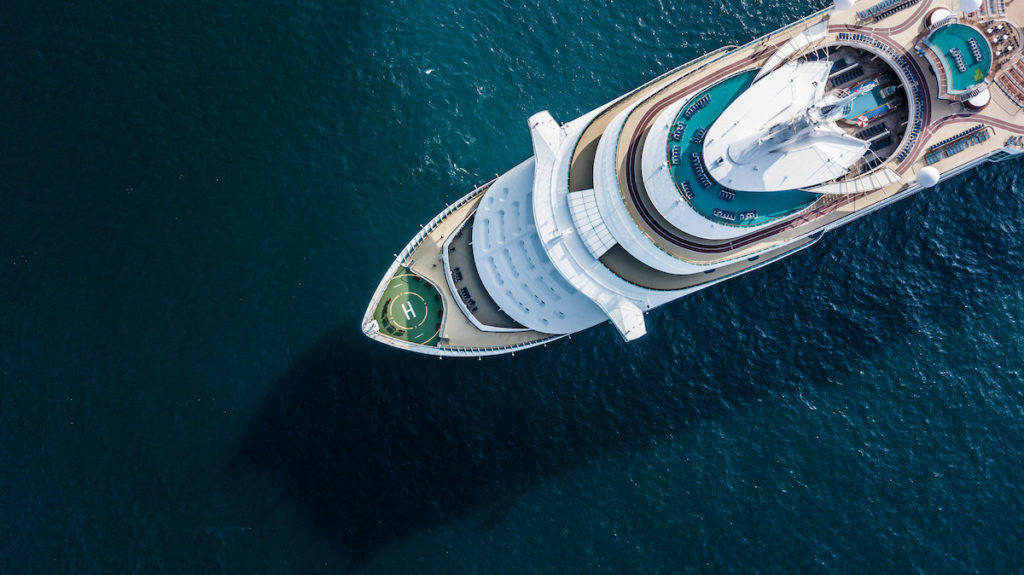 Here are a few cruise tips to help you prepare: 
Check the cruise itinerary and schedule and consider if it's right for you
Based on the itinerary, check if you need visas – the cruise operator will have this information available
Read the cruise's terms and conditions, so there are no unpleasant surprises
Getting travel insurance is something we always advocate for all travelers; a cruise is no exception
Many cruise operators have loyalty programs which have extra perks like complimentary drinks – check the conditions and consider joining
Some people are seasoned cruise travelers and know how to choose and book. If you're planning your first-time cruise, then you might be asking yourself how to book a cruise for the first time. It's not much different from booking a flight, but takes a bit more planning:
Choose several cruises that appeal to you. 
Compare their itineraries and see which ones have destinations that you prefer and fitting travel dates. 
If a few cruises remain, consider the cruise schedules and choose the one that best fits your vacation style. 
Check prices with the cruise line directly and compare prices with travel agencies. Oftentimes, travel agencies may offer extra incentives which will save you money. 
Check with your credit card providers – oftentimes they will offer complimentary insurance if you book using their cards. 
Book your dream vacation and start packing your bags!
Our list is not definitive and there are many great cruises by the cruise companies in this list, and other cruise operators as well. You can always search for specific lists, such as "Top Luxury Cruises", "Top Family Cruises" or "Top Couples Cruises".
One last tip – once your cruise is booked, reach out to our travel experts to find the most convenient flights matching all your specific travel requirements. Call toll-free 24/7 at 844-300-7983.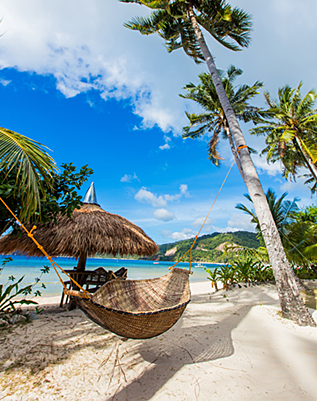 Get it right to your inbox by subscribing to ASAP Tickets weekly emails featuring the hottest flight deals from US to the .
Massive savings • Unsubscribe at any time.
You were sucessfully subscribed
Please check your inbox to confirm the subscription