A Christmas vacation in Europe sounds dreamy. Why do many people visit Europe at Christmas time? Mostly because of the beautiful snowy cities and magical winter markets. Not to mention the holiday festivals and the scents of cinnamon and mulled wine. Make these Christmas holidays special – plan your vacation in Europe.
Don't forget to pack your coat and scarf – the average temperature in Europe in December is around 26°F (3°C).
Christmas in Amsterdam, Netherlands
The holiday season is a wonderful time to visit Amsterdam. Winter festivals, Christmas markets, classical concerts, and ice skating on the Museumplein are perfect examples of how Amsterdam encapsulates the holiday spirit. As one of the top destinations in Europe, Amsterdams is a city with authentic architecture, world-class museums, and adventurous nightlife. In addition, you'll never feel bored in Amsterdam. Crazy New Year parties will blow your mind!
Christmas in Paris, France
Paris is the most romantic city in the world and a popular stopover for many travelers. When Christmas arrives, the city's most beautiful monuments are adorned with colorful lights and charming decorations. The streets and windows of department stores are packed with animated displays. Lastly, the magnificent Eiffel Tower lights up the whole city and makes you feel like you are in a fairytale. In short, if you happen to be in Paris for the holidays, you won't regret it. Christmas is the city's most magical time.
Christmas in London, United Kingdom
There's nothing more festive than London at Christmas. Want to ice skate at Somerset House? or dine alfresco in Vinegar Yard's winter domes? London has it all! During the holidays, the capitals parks, streets, neighborhoods, shops, and squares change into small, colorful fairylands. 
For a trip into England's traditional Christmas past, why not visit Alexandra Palace and catch an all-star lineup performing Charles Dickens' Christmas Carol.
Christmas in Vienna, Austria
Vienna's most beautiful squares transform into magical Christmas markets.
Vienna is the place to go crazy on delicious holiday treats. Over there, the great variety of winter markets will delight your taste buds with their delicious kartoffelpuffer, coffee, kirsch-gingerbread, apfelstrudel, donuts, bratwurst, mulled cider, and wine. Above all the treats mentioned, there is no discussion about the aesthetics of Vienna. If you look left, there is a palace. Look right and, you've guessed it, there is another palace!
Christmas in Geneva, Switzerland
Geneva is a beautiful Swiss city surrounded by magnificent mountains and native meadows. To begin with, Switzerland is the perfect holiday destination for everyone who loves to spend the day skiing, followed by an evening of mulled cider in front of the fireplace. Strolling around Geneva Christmas markets with the smell of roasted almonds in the air
makes you feel as if you're in Santa's village.
Christmas in Prague, Czech Republic
Prague is incredible around Christmas. Firstly, the city center turns into an enchanting world full of local traditions and winter markets. Next, it starts filling up with curious travelers and choirs singing carols. Finally, things blend together, and Prague fully transforms into a colorful, magical Christmas fairytale.
So, stroll around the city, drink a hot chocolate or mulled wine, and enjoy the cozy atmosphere. Don't be surprised if you come across a stable with animals inside: The locals here like to stick to their traditions.
Christmas in Oslo, Norway
Christmas is a wonderful time to be in the capital of Norway. Oslo has a lot to offer, especially during the holiday season. Conservative capital transforms and dresses up in white lights, winter markets fill the streets, and endless pine forests draped in twinkling fairy lights illuminate the skyline. It's the perfect destination for a white Christmas. Who knows, maybe you'll even experience the northern lights!
Christmas in Barcelona, Spain
Barcelona is famed for its open-minded people, artistic atmosphere, extensive parks, and magnificent architecture. When Christmas arrives, the city's avenues turn into colorful, elegant fairylands full of jolly people and delicious treats. In Barcelona, you will always feel at home. The city is open to everyone! Without a doubt, the most adventurous event is the Christmas Day swim, when hundreds of Barcelonans throw themselves into the chilly waters of the Mediterranean.
Christmas in Rome, Italy
Ah, Christmas in Rome! An experience everyone must try at least once. Imagine all the churches in Rome decorated, the streets draped with twinkling lights, and Christmas trees sparkling in front of Saint Peter's Square, the Colosseum, and the Spanish Steps. Although you won't be able to make a snowman, the weather is not too cold, and you'll be able to wander around the city all day. It's a truly wonderful time to be there.
Christmas in Budapest, Hungary
Budapest is a great place to spend your Christmas vacation. It's all about the Christmas markets, fairy lights, mulled wine, outdoor ice rinks, and thermal pools. The streets are not too crowded, and snow covers everything around you. What's more, Hungarian people celebrate Christmas twice – once at the beginning of December and again on December 24. So, in Budapest, you'll be able to enjoy the festivities for much longer.
---
Christmas is a wonderful time all over the world. Enjoy your Christmas vacation in Europe. But no matter where you're planning to celebrate, you'll feel the holiday spirit surround you.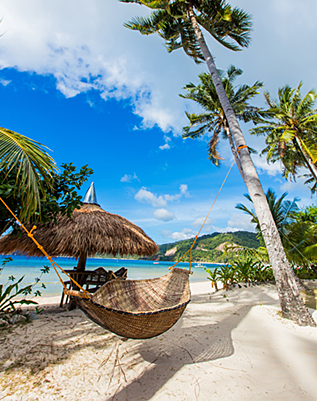 Get it right to your inbox by subscribing to ASAP Tickets weekly emails featuring the hottest flight deals from US to the .
Massive savings • Unsubscribe at any time.
You were sucessfully subscribed
Please check your inbox to confirm the subscription